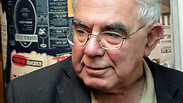 Avraham Shalom 1928-2014
Photo: Tzvika Tishler
Former Shin Bet chief Avraham Shalom died Thursday at the age of 86. He was one of the Israeli agents who captured senior Nazi and key architect of the Holocaust Adolf Eichmann in Argentina in 1960.

Shalom, born in Vienna in 1928, immigrated to Israel with his parents at the age of 11, and in 1946 became a member of the Palmach, the elite fighting unit of the pre-state Haganah underground army. He fought in several key battles in the 1948 War of Independence.

He joined the nascent Shin Bet in 1950, and, following the massacre of 11 Israeli athletes at the Munich Olympics in 1972, became head of its security desk. He was appointed agency director in 1980.

Related Stories

But Shalom resigned from the Shin Bet under a cloud in 1986, in the wake of the notorious "Bus 300" affair, in which two Palestinian terrorists were killed in custody following a terror attack in 1984, allegedly on his orders. He was pardoned by President Chaim Herzog shortly afterwards.

Shalom was one of the six surviving former Shin Bet chiefs who took part in the Oscar-nominated 2012 documentary the Gatekeepers, in which they discuss their experiences as senior members of Israel's defense establishment. Shalom talked in detail about "Bus 300".

He was among the founders of the Geneva Initiative, an informal peace plan developed by a group of Israeli and Palestinians activists. He also supported the release of hundreds of Palestinian prisoners for Gilad Shalit, telling Haaretz in 2010 that, "I would give 900 and another 1,000, including all the famous names… on condition that your strategy is to make peace."