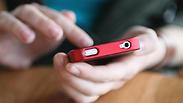 The app includes GPS-oriented technology that improves response time
Photo: Shutterstock
In response to the recent abduction of three Israeli teens, a new emergency app dubbed "SOS" has been launched by the United Hatzalah organization, which enables users to immediately send out a distress call and their exact location to United Hatzalah and the police.
The app includes GPS-oriented technology that improves response time by making certain that medic volunteers who are closest to the area of the emergency receive the mobile-alerts and are then dispatched, a press release issued by United Hatzalah stated.
Related stories:
The launch of the app was accelerated following the kidnappings of Eyal Yifrah, Gil-Ad Shaer and Naftali Frenkel in the West Bank last Thursday, in order to give victims of emergencies an easier and quicker way to call for help.
In the case of an emergency, users of the app are able to send their GPS coordinates and their precise location to the United Hatzalah 24/7 dispatch center and to the police, with just one swipe of a smartphone.
In addition, the app is designed to notify family or friends of an emergency by using contact information that the user inserted into the system during registration.
While the police has foiled dozens of attempted abductions in the last year alone, the recent abduction affair shows that there is a need for supplementary tools and technologies to ward off such tragic incidents.
"Our main mission at United Hatzalah is to get to medical emergencies within two minutes all over the country," United Hatzalah's president and founder Eli Beer said in the press release. "With the recent kidnappings, we feel obliged to share our knowledge and technology to provide that extra layer of protection for the people of Israel."
The app is not intended to act as a replacement for direct verbal communication with emergency services, but rather is designed to function as an emergency safety and security alert system.
The app is available on sos.nowforce.com in English and Hebrew.