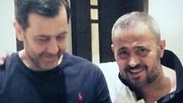 Maher Assad (left): Dead or alive?
After reports claimed brother of Syrian president lost leg, entered into a comma and passed away, new photos emerged Thursday, indicating Maher Assad is alive and kicking.
The pictures are of the man considered by some to be the architect behind Syria's violent crackdown on opposition forces – Maher Assad. This is the first time any image of Syrian President Bashar Assad's brother, which some have rumored to be dead, have surfaced in the last four years.
At least that was the case until a Lebanese media professional who goes by the name Nishan posted a picture on Twitter. According to him, the picture portrays Maher Assad together with Christian-Syrian singer George Wassouf.
Related Stories
"This picture of the artist George Wassouf and Maher Assad was taken four days ago," Nishan wrote, "the last time he was seen was four years ago."
The relatively pro-rebel Al-Arabiya news outlet said that the picture could not be dated or confirmed, but did note that in recent days another image of Wassouf had been circulating online, this time with Syrian President Assad.
Al-Arabiya took a jab at Assad's brother and said that "even though he has been out of the spotlight for some years now, according to this picture it seems his is alive and well and has even found the time to meet with a Syrian musician."
Conflicting reports have emerged over the past four years regarding the fate of Maher, considered by some to be the second strongest man in Syria, where he holds both political and military roles.
Among others, it was reported that he was killed in a suicide attack on a building belonging to Syrian security forces in July 2012, an attack which saw a number of senior military officials die.
Another claimed that Maher was killed after an attack on his convoy in Damascus left him severely wounded and without a leg. According to this version after losing the leg he was transferred to Russia for medical care where he slipped into a coma and passed away.