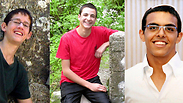 Kidnapped teens
Photo: Reuters
"I've been kidnapped," whispered one of the Israeli teens in a call to the police just moments after their abduction. The following lack of action by police, who apparently assumed that the report was no more than a prank call, inspired the recent launch of an official investigation into police conduct in such situation.

Officers only realized the gravity of the phone call when the father of one of the missing teens arrived at the police station to file a missing persons report.

One of the first issues that will be checked in investigations is why the police system known as 'Compass' was not activated that night. The system is meant to identify the owner of a telephone from which the police receive a suspicious call.

Related Stories

Compass gives police access to a caller's list of contacts even when receiving a call from a blocked number. This means that such calls can be investigated by calling family or friends to determine if the report is legitimate.

A senior officer with the police claimed that those who received the call didn't understand what was whispered over the line. The officer also stressed however, that this was no excuse for Compass being inactive, leading officers to completely ignore the call.

"At least they could have checked with the family of the owner of the phone if everything was ok," said the officer.

Public Security Minister Yitzhak Aharonovich admitted on Wednesday that criticism against the police was justified under the circumstances but stressed that, "I heard the recording and I say that it's very difficult to understand. But the recording will be released to the public one day."