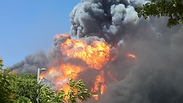 Fire in Caesarea
Photo: George Ginsberg
A massive fire broke out on Saturday afternoon at the Shalam Packaging Industry factory in the Caesarea industrial area.
Sixty-nine firefighting teams were called to the scene, with over 120 firefighters battling the conflagration, with aid from firefighting aircraft.
One of the structures at the Shalam plastic factory collapsed because of the fire, and two hours later it was burned to the ground.
Magen David Adom paramedics treated two people; one was in a light-to-moderate condition suffering from smoke inhalation while the other was in a light condition after jumping off a wall to escape the fire and hurting his leg.
Firefighters were working to stop the blaze from spreading to a nearby cardboard factory.
They've also been working to cool the diesel tanks in the industrial area out of concern the fire reaches a nearby oxygen factory and causes an even bigger catastrophe.