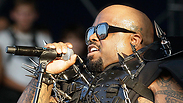 CeeLo Green. First concert in Israel
Photo: AP
CeeLo Green, the voice behind the hits "F**k You!" and "Crazy," will perform in Jerusalem's Independence Park on August 19.

The Grammy-winning American singer, songwriter and rapper will play one concert in Israel as part of the Jerusalem Municipality's summer events. Ticket sales will start at NIS 120 (about $35).

Rocking Israel

Australian pop singer Kylie Minogue expected to perform at Tel Aviv's Nokia Arena in November.

CeeLo Green was born Thomas DeCarlo Callaway in Atlanta, Georgia. In 1994, he founded the Goodie Mob hip hop group with three of his friends. The band made its breakthrough when it appeared on two tracks on the OutKast hip hop duo's 1994 debut album.

Goodie Mob released three albums before CeeLo left the group in 2002 and joined record producer Danger Mouse to establish soul duo Gnarls Barkley, which released the worldwide hit "Crazy" in 2006.

In early 2011, Green became a talent show judge and coach on American reality TV singing competition The Voice. In 2012, he performed with Madonna at the Super Bowl halftime show.

Green is currently on tour in North America and will arrive in Israel for his first concert in two months.