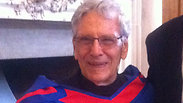 Author Amos Oz has been given throughout the years about a dozen honorary degrees from many academic establishments in many countries. But this weekend was unique – Oz became the first Israeli ever to be given such a degree in Ireland from its most prestigious and ancient university, Trinity College, located in the capital Dublin.

Former Irish president Mary Robinson, who also served as United Nations High Commissioner for Human Rights and is known for her harsh critic towards Israel, awarded the prize to Oz to the sound of a wild round of applause.

Related stories:

The Israeli embassy in Ireland was very satisfied with the great honor given to an Israeli citizen. Ambassador Boaz Modai, said that alongside the frequent calls made by a loud Irish minority to conduct an academic boycott on Israel, it is exciting to witness such a victory where a Zionist intellectual receives recognition and honor in Ireland.

Oz said Saturday night over the phone that "Dublin is not an easy place for Israelis. The criticism towards Israel and its policy in the territories is even harsher than anywhere else in Europe. But the cultural Dublin, the one that loves poetry and literature received us with open arms. My wife Nili and I spent only a few days here, but they will always be remembered with great affection.

The acclaimed author who is known for his leftist political views and his unorthodox statements was recently criticized for calling Israeli radical settlers responsible for vandalism attacks ("price tag"), 'Hebrew neo-Nazis'.