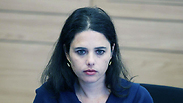 Bayit Yehudi Ayelet Shaked
Photo: Gil Yohanan
The Knesset's Constitution, Law and Justice Committee postponed a voted scheduled for Sunday on a bill proposal dubbed the "Zoabi bill."

The bill would enable 80 Knesset members to impeach an MK who supports an enemy country or a terrorist organization, incites to racism, makes statements against the existence of Israel, or operates against it.

The bill is a proposed amendment to an existing law allowing the Knesset's Central Elections Committee to reject the re-application of current MKs for the next Knesset term if they are found guilty of the aforementioned criterions.

Bayit Yehudi MK Ayelet Shaked, who proposed the amendment, said that it was submitted to the Knesset after Zoabi claimed the kidnappers of the three teens were not terrorists, which also landed Zoabi with a police investigation on grounds of incitement. Attorney General Yehuda Weinstein was expected to decide on the matter in the coming days.

Related stories:

"Out of this absurd situation, in which restrictions are imposed upon entering the Knesset, but not afterwards, on acting MKs – it was decided that now is the best time to submit the bill to the ministerial committee," said Shaked. She also mentioned MK Afu Aghabria who said that Hamas was not a terror organization and "mortars are Isra-bluff".

Shaked said in response that the only Isra-bluff here is the fact that these people can still attach the title "member of Knesset" to their names. There is no reason in creating laws to remove a candidate or a list from the Knesset before they are elected, if you don't have laws on acting MKs' behavior and statements during their term.

"Zoabi and Aghabria's actions and statements are a lame attempt to sugarcoat terror attacks in a pink and humane wrapper, but what they are actually supporting is an armed struggle, incitement and abduction of civilians. Terror supporters have no place as citizens and certainly not as Knesset members. This is a reality that no other country in the world would allow," added Shaked.