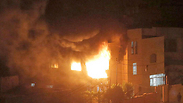 One of the kidnappers house destroyed after finding the bodies of the three teens
Photo: Reuters
Three Palestinians have been arrested in the West Bank overnight Monday. The IDF also confirmed that one Palestinian had been killed from army fire after throwing a grenade at the Israeli troops during a raid in the Jenin refugee camp. Palestinian officials identified the man as Yousouf Ibrahim abu Zagha, 19.

On Monday evening, the bodies of the three Israeli teens who were kidnapped over two weeks ago were discovered by security forces just north of Hebron.

Related stories:


After the discovery of the boys' bodies, the IDF blocked off all the entrances to Hebron.

The two prime suspects in the kidnapping, Amar Abu-Eisha, 33, and Marwan Kawasmeh, 29, haven't yet been captured and IDF officials vowed Monday that operations against Hamas would continue.

"We've finished only this part of Operation Brother's Keeper. With the same might, we're going to lay our hands on the two kidnappers," a military source said.

The IDF demolished a part of the Hebron home of Abu-Eisha, fearing that he was in the house and could open fire on soldiers. Some of the walls of the house were destroyed and a fire broke out but was quickly extinguished. No one was injured in the incident and the soldiers reported that they were scanning the remains of the house for weapons.

Forces also carried out a raid on the home of the other Palestinian suspected of abducting the three Israeli teens whose bodies were found earlier in the evening. Earlier Monday, officials reported in depth searches in Hebron at the home of the two suspects.

Since the beginning of Operation Brother's Keepers, a total of 419 Palestinians have been arrested, among them 59 were released in the Shalit deal, and 279 are Hamas operatives. The IDF has searched 2,200 sites.

One hundred Palestinians rioted near the home of Kawasmeh in the evening. They rolled garbage bins and threw rocks at IDF forces. The soldiers responded with crowd dispersal measures, like tear gas.

In several places, rioters also burned tires. Earlier Monday, Palestinians clashed with IDF forces in the Halhul area, where the bodies of the boys were discovered. Some 200 Palestinians threw rocks at security forces, who responded with riot dispersal measures.

Reuters contributed to this report.