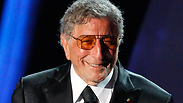 Tony Bennett
Photo: Reuters
After a 60-year musical career, Tony Bennett is finally coming to Israel. The 88-year-old American singer, known for his deep baritone voice, will give one show at Tel Aviv's Charles Bronfman Auditorium on September 14.

Ticket prices begin at NIS 209 (about $61), depending on the seat's location.

Bennett's collaboration with Amy Winehouse

Bennett, who has won 17 Grammy awards and received numerous tributes for his work, has had some unforgettable collaborations with artists like Paul McCartney, Aretha Franklin, Amy Winehouse, Lady Gaga, Norah Jones and others.

In 2011, he celebrated his 85th birthday and released the album "Duets II," making history as the oldest living artist to reach the Billboard Hot 100.

Bennett will arrive in Israel with his eternal hits, including "Steppin' Out with My Baby," "I Left My Heart in San Francisco," "Because of You" and "Rags to Riches."