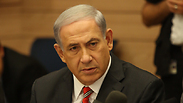 Prime Minister Netanyahu
Photo: Gil Yohanan
Prime Minister Benjamin Netanyahu spoke Tuesday night on Israel's response to recent rocket fire from Gaza and the murder of three Israeli teens saying, "Hamas is responsible, Hamas will pay, and Hamas will continue to pay."

His comments came before a special session of the Security Cabinet convened to continue deliberations on the appropriate Israeli response for the kidnapping and murder of the teens: Eyal Yifrach, Gil-Ad Shaer, and Naftali Frenkel.

"We won't remain silent and won't stop until we reach every last one of them," said Netanyahu referring to the search for the suspected murderers and any others involved in the kidnapping. "We will reach everyone even if it takes time. This is our first mission. And it will be completed."

Netanyahu then turned on Hamas as an organization saying that security forces must work against them firstly in the West Bank and secondly in Gaza. "Hamas... is directly responsible for for the firing of rockets and mortars into Israel in the last few hours," he said.

Defense Minister Moshe Ya'alon also spoke before the cabinet meeting and took a slightly more moderate stance suggesting that Israel needs to act after careful consideration and not react from the gut.

The three Israeli teens were laid to rest earlier in the day at a Modi'in cemetery after the families of the boys had decided to bury them together.

Before the prime minister's address, five mortar shells were fired from Gaza towards the Eshkol Regional Council in southern Israel. Code red sirens were also heard in Sha'ar HaNegev.

The Israeli Air Force carried out 34 attacks on terrorist targets in several different sections of the Gaza Strip overnight Monday, targeting structures and even some open areas, the IDF spokesperson confirmed early Tuesday morning.

Since the beginning of Operation Brother's Keepers, a total of 419 Palestinians have been arrested, among them 59 were released in the Shalit deal, and 279 are Hamas operatives. The IDF has searched 2,200 sites.