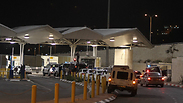 The Shuafat refugee camp
Photo: Gil Yohanan
Hundreds of Palestinian protesters have been rioting in East Jerusalem since the early hours of Wednesday morning, following the murder of an Arab teen from Shuafat. Two photojournalists were injured, including a Ynet photographer.
Protesters in Shuafat burned tires, hurled stones, Molotov cocktails, fireworks and pipe bombs at IDF and police forces at the scene and called out "we will sacrifice our lives for the martyrs." Security forces used stun grenades to disperse the crowd and cordoned off the area to stop others from entering the neighborhood.
Meanwhile, Israeli politicians from across the political spectrum condemned the murder and vowed security forces would work to find the killers. However, they were careful not to claim it was retribution for the murder of three Israeli teens that were presumed to have been kidnapped since June 12 but were discovered dead in a West Bank valley late Monday.
The burnt, dead body an Arab teenager was found early Wednesday morning in Jerusalem Forest, and police were investigating a possible connection to the reported kidnapping of a Palestinian youth in East Jerusalem earlier in the day. Another possibility being investigated is that the boy was killed as part of a domestic issue or "honor killing."
The incident occurred only a day after Israel buried three teenagers.
Protesters also vandalized three light rail stations in East Jerusalem, smashing glasses and destroying security cameras.
Protesters also threw stones at security forces in Beit Hanina, as well three pipe bomb. One of the pipe bombs exploded, and one person was hurt and taken to hospital. There were no injuries among the policemen.
Two news photographers were hurt during the clashes, one of them a Ynet photographer.
Several hundreds of the Shuafat residents have also made their way to the slain teen's home to offer their condolences to the family.
Residents condemned the murder, saying their son was a victim of the kidnapping and murder of the three Israeli teens.
Murder is murder
Meanwhile, Israeli politicians from both the left and the right quickly condemned the boy's death. Jerusalem Mayor Nir Barkat vigorously condemned the murder, and said: "This is a horrible and barbaric act which I strongly condemn. This is not our way and I am fully confident that our security forces will bring the perpetrators to justice. I call on everyone to exercise restraint."
Justice Miniser Tzipi Livni Tweeted that "the murder of the Arab boy in Jerusalem (is a) shocking incident that must be condemned, (and we should have) zero tolerance for it." Livni vowed security forces work to bring those behind his death to justice.
Rightist Housing Minister Uri Ariel also condemned the murder, saying via Twitter that "The murder of the Arab boy and the burning his body this morning is a despicable act and shocking. I call the police to spare no efforts, to reach the killers fast and bring them to justice."
The family of Naftali Frenkel has also commented on the death and said "If the Arab youth was murdered because of nationalistic motives then this is a horrible and horrendous act.
"There is no difference between (Arab) blood and (Jewish) blood. Murder is murder. There is no forgiveness or justification for any murder," said Yisahi Frenkel, Naftali's uncle.
Omri Efraim and Noam (Dabul) Dvir contributed to this report.