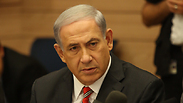 Prime Minister Benjamin Netanyahu
Photo: Gil Yohanan
Prime Minister Benjamin Netanyahu urged restraint on Thursday amid calls from the right to take revenge on the Palestinians for the murder of Eyal Yifrach, Gil-Ad Shaer and Naftali Frenkel.
"I appeal to all the citizens of Israel and ask you: Please exercise restraint in your actions and words. Our hearts ache, our blood boils, but we must remember that we are, first and foremost, human beings and we are citizens of a law-abiding country. We are making decisions in a responsible, cool-headed and considered manner," Netanyahu said.
In his remarks at a 4th of July celebration at US Ambassador Dan Shapiro's house, Netanyahu also condemned the murder of Muhammad Hussein Abu Khdeiron, a 16-year-old Palestinian whose body was found in the Jerusalem forest on Wednesday, and vowed to bring to justice those responsible.
"I unequivocally condemn the murder of a Palestinian youth in Jerusalem a few days ago," he said.
"The police investigation is ongoing. We don't know yet the motives or the identities of the perpetrators but we will. We will bring to justice the criminals responsible for this despicable crime, whoever they may be. Murder, riots, incitement, vigilantism – they have no place in our democracy," he continued.
President Shimon Peres, who also spoke at the event, also urged restraint, calling both Israelis and Palestinians to "respect the law" and "avoid incitement".
"We weren't born to hate," said the president. "A few days ago we all behaved as one, with dignity. Even during our sorrow we called together for restraint. People who are engaged in incitement are not always aware where it can lead, to more sorrow, to more dangers."