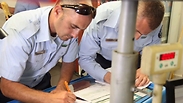 Tel Aviv municipality inspectors hand out fines
Photo: Motti Kimchi
Six days after Interior Minister Gideon Sa'ar dropped a bomb and prohibited Tel Aviv municipality to legalize the opening of supermarkets on the Shabbat, fines were given Saturday to business owners who decided to open their grocery stores despite Sa'ar's decision.

Tel Aviv municipality inspectors began giving NIS 730 ($213.5) fines to business owners who opened their grocery stores in the forbidden places according to the interior minister's amendment, which means the entire city, except commercial centers such as Tel Aviv Port, Jaffa Port, Hatachana compound, Neve Tzedek and gas stations' convenience stores.

Related stories:

On Friday night after the entrance of Shabbat, it seemed that businesses in Tel Aviv were working as usual, except for a few kiosks that were closed and a silent protest initiated by grocery stores employees who wore T-shirts with slogans of protest, there was no sign of resistance to the move that sparked outrage in the city that never sleeps.

However, on Saturday things changed, around 1pm city inspectors arrived at an AM:PM store and gave the employees a fine. They did it after 311 business owners received advance notice to close their business on Shabbat.

This was done following Sa'ar's decision that raised public outcry both from Tel Aviv residents and the municipality, which announced its intention to petition the decision to the High Court of Justice.

In the meantime, the city had no choice but to enforce the existing law, which forbids businesses from opening their doors on Shabbat, in order to avoid contempt of the court.

"This move would hurt many people who come here on the weekends. The law also hurts me personally, because I am a student and can only work weekends," said Noa Pinhasov, a worker at one of the AM:PM stores in Tel Aviv.

"This law hurts people's livelihood for no good reason. In this city, businesses are open on Shabbat and it's not meant to bother anyone," said Oren Cohen, who works at "Al HaPina" kiosk.

Despite the fines, the big grocery stores stayed open on Shabbat and many customers have done their shopping on saturday – as they do every weekend. "I work hard all week, and only have time to shop during the weekend," said Smadar Nachshon, who was shopping at Tiv Ta'am, two hours after the entrance of Shabbat.

The customers didn't confront the inspectors, but many objected to the move. "I completely object to closing of businesses on Shabbat," said Tel Aviv resident Marina Rodinsky and explained that "there is no better time to shop than on Shabbat, this is what makes Tel Aviv fun to live in - everything is always available. Otherwise I could have just stayed in Ashdod. I would do my grocery shopping only on Shabbat if it helps support the protest against this law".