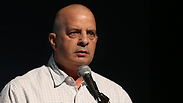 Diskin
Photo: Tzvika Tishler, Yedioth Ahronoth
The escalation of violence in the territories, Jerusalem and the triangle (of Arab towns in central Israel) are the direct result of the policies of the government of Prime Minister Benjamin Netanyahu, former Shin Bet chief Yuval Diskin wrote late Friday in a harshly critical Facebook post.

In his lengthy comment, Diskin wrote that the rapid deterioration in the security situation has shattered the Israeli leadership's "illusion that Israel's frustrated Arab citizens will not at the end of the day take to the streets over the lack of response to their problems and the containment of the Palestinians in the West Bank, and will not react despite their frustration and the worsening economic situation."

This illusion, Diskin said, "worked perfectly for as long as the defense establishment succeeded in providing impressive calm in the defense arena. The rapid deterioration in the security situation was not only down to the brutal murders of Naftali, Eyal and Gil-Ad, but first and foremost it is the result of the illusion that the government's stagnation in every area was really keeping the situation in deep freeze."

Diskin, who headed the Shin Bet for six years, went on to define the various "illusions" that he says the government is propagating.

"The illusion that 'price tag' attacks are just a few slogans on the walls and not really racism; the illusion that everything can be solved with a little more force; the illusion that the Palestinians will just accept all that we are doing in the West Bank and not respond, despite their rage, frustration and worsening economic situation; the illusion that the international community will not impose sanctions on us; that Israel's frustrated Arab citizens will not ultimately take to the streets over the lack of treatment of their problems; and the Israeli public will keep submissively accepting the government's incompetent response to the social gaps that its policies have only worsened, when corruption continues to eat away at all that is good, and so on and so on."

Diskin concluded with a grave warning that there could still be worse to come.

"Anyone who thinks that this can be sustained is making a huge mistake. What has been happening in recent days could be much worse - even if the situation temporarily calms down. Do not be fooled for one moment, because the massive internal pressure will still be there, the combustible fumes in the air will not dissipate, and if we do not dispel them, there will be an even more serious situation."