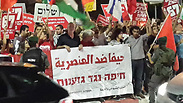 We refuse to be enemies
Photo: Ahiya Raved
Some 300 people protested in Haifa on Saturday night in a demonstration titled "Jews and Arabs refuse to be enemies." Across the street from them, some 30 people demonstrated, waving Israeli flags.

Hadash MK Dov Khenin joined the former, calling on the government to work for peace and avoid escalation and deterioration of the situation.

On the left side of the Sderot HaNasi street were members of Hadash and Meretz who were waving red and green flags, as well as Israeli flags alongside Palestinian ones. They were carrying signs against the occupation and against racism, and called for the dismantling of settlements and the establishment of "a Palestinian state alongside Israel."




On the other side of the street, people waving Israeli flags were calling out "El el Israel," "Traitors to Gaza," "Death to terrorists," "Fifth column" and others. Many drivers passing by made derogatory exclamation at the left-wing protesters.

Dozens of police and Border Police were separating the two groups to stop the tensions from turning into violence.

On Ma'ale Yitzhak road in Nazareth Illit, some 200 residents protested the rioting in neighboring Nazareth and in Wadi Ara. Protesters hurled stones and made derogatory calls against Israeli Arabs.