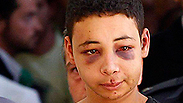 US-Palestinian teen
Photo: Reuters
A Jerusalem court released US-Palestinian teen Tariq Abu Khdeir on bail Sunday morning. Khdeir, whose cousin was brutally murdered last week, told reporters he vaguely remembered the vicious beating he received. "I was attacked by police. I woke up in the hospital."

Khdeir, suspected of throwing Molotov cocktails and rocks and of injuring an officer, was detained last Thursday. A video clip circulated on the Internet on Saturday showed two Israeli border police holding down and repeatedly pummeling a masked youth before carrying him away.

"I remember standing and watching the group of people. They came from the side of me and I tried to run away," he told reporters.

Related stories:

The family of Khdeir, from Tampa, Florida, who was visiting relatives in East Jerusalem, says he was the target of the punches, although the footage is blurred and the victim cannot be identified as he appears also to be wearing a head covering.

A later part of the video shows Khdeir's face with a heavy black eye and swollen lip. He is a cousin of Mohammed Abu Khdeir, the youth whom Palestinians believe was abducted and murdered by far-right Israelis on Wednesday.

The Israeli Justice Ministry said in a statement that the police investigations department was looking into the incident.

Police spokesman Micky Rosenfeld said Khdeir was one of six rioters caught and detained in the incident, three of whom were found to be carrying knives.

State Department spokeswoman Jen Psaki confirmed that Tariq Khdeir was visited by a consular officer on Saturday.

"We are profoundly troubled by reports that he was severely beaten while in police custody and strongly condemn any excessive use of force. We are calling for a speedy, transparent and credible investigation and full accountability for any excessive use of force," Psaki said.