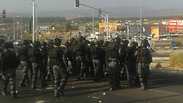 Arab protesters rioted Sunday in East Jerusalem and a number of neighborhoods in the capital after a tense day which saw security forces arrested six men for the murder of the Palestinian teen Mohammed Abu Khdeir. Some 15 silent protests took place in Arab communites across Israel without incident.
A number of right-wing Jews demanding revenge for the death of the three Israeli teens also rioted in the capital.
In the Shuafat neighborhood, where Abu Khdeir lived and was the scene of the kidnapping itself, more than 100 Arab youths, some masked, pelted police forces with stones. Similar scenes were reported from the Abu Tur neighborhood. Police forces were present at both areas.
In Tel Sheva, a Bedouin town bordering Be'er Sheba, masked protestors threw Molotov cocktails and hurled stones at cars at the entrance of the southern Jewish community of Omer. Damage was caused to several vehicles, including one of a judge, who was not reported wounded in the incident. Police arrested 12 people suspected of stone-throwing and rioting and took them away for questioning.
During the rioting in Tel Sheva, Highway 60 was closed for traffic from the Shoket Junction to Be'er Sheba. Highways 80, 31 and 25 were also closed to traffic.
In the Israeli Arab city of Shfaram, about 50 rioters threw stones and attempted to set fire to trash bins. Police forces at the scene are attempting to disperse the crowd.
In Iksal, an Arab local council near Nazareth, rioters burned parts of a police outpost, while protestors in Nazareth threw stones at a fire station.
In another incident, rioters burned tires in Arraba in the Lower Galilee, after which the main road was closed to traffic. A man in his 40s was brought to a local clinic in Arraba with stab wounds to his upper body. He was taken to hospital in Nahariya in critical condition. Police opened an investigation into the stabbing.
A bus that was on its way to Kiryat Shmona was pelted with stones near Ara overnight. A passenger was lightly hurt and was taken to Ha'emek Medical Center in Afula.
At Jerusalem's Bar-Ilan Junction, some 40 rightwing Jews blocked the traffic. Earlier in the day a right-wing activist was arrested after attempting to harass a protest in Jerusalem's IDF Square calling for calm and for an end to racism.
In the Palestinian village of Hizma in East Jerusalem, a number of masked Palestinians threw firebombs and stones at the police. Officers blocked in the protesters in an attempt to end the rioting.
In the At-Tur neighborhood of East Jerusalem, some 100 masked rioters threw stones.
After a relatively quiet morning, hundreds of protestors clashed with police in Tamra in the Lower Galilee, with some throwing stones at officers, who managed to hold them at bay and fired stun grenades. The officers also prevented the protestors from blocking Highway 70.
In Nazareth, youths threw stones at a police car. Officers chased the rioters and arrested 12 suspects.
After breaking the fast as part of Ramadan observances, protests were expected in from Taibe, Tira, Qalansawe, Kafr Qara, Sakhnin and other locations.
The Mayor of Qalansawe, Abed Salameh, told Ynet in an exclusive interview Sunday that he was sorry for the recent riots in the town. "In my name and in the name of all residents of the city, I apologize for all those who caused damage," he said.
"I would call the situation in Qalansawe a crash landing. This is the first time in history that I've encountered something like this. I guess the anger and the rage (that's been building up) for years has exploded now."
Violent riots continued overnight Saturday in Jerusalem, with hundreds rioting in the capital and its environs. A bus driver and two passengers were lightly wounded near the Mount Scopus tunnel in Jerusalem, when a stone was thrown a bus travelling between Jerusalem and Ma'ale Adumim.
In another incident, a Jewish woman was attacked by several Arabs in the Old City of Jerusalem. Her husband pulled out his gun and fired in the air, causing the assailants to flee the scene. The woman sustained light injuries. Local police were searching the area to locate the suspects.
Dozens of residents also protested at the entrance of Ar'ara on Highway 65 in Wadi Ara on Saturday night. They hurled rocks, burned tires and threw fireworks at police. Police stopped them from marching towards the main junction outside the village and blocking traffic. A policeman was lightly injured by a stone thrown at him, and one protester was arrested for disturbing the peace.