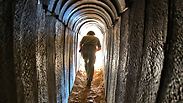 Hamas terror tunnel/Archive
Photo: EPA
Attacks by Gaza militants from Gaza continued Monday morning, with some 20 rockets raining down on southern Israel. The attacks included a missile fired at the city of Be'er Sheva, which fell in an open area causing no injuries or damage. Israeli media sources said that the missile was a Russian-made Grad.

Defense officials said on Monday that they believe Hamas is seeking an escalation in the south, and that Egyptian mediation efforts were not bearing fruit.

Hamas spokesman Mushir Al-Masri said, however, that "contact with Egypt in an attempt to restore calm has not stopped ... (but) so far, there are no serious efforts to reach calm."

Related stories:

Meanwhile, rocket fire also continued elsewhere in southern Israel.

Code Red rocket alert sirens were sounded in the Sdot Negev and Sha'a HaNegev regional councils, as well as in Netivot. One rocket was intercepted by the Iron Dome anti-missile system over Sdot Negev. Three rockets exploded in open areas in the Sha'ar HaNegev Regional Council, and two exploded in the Eshkol Regional Council.

Earlier Monday, a rocket exploded in an open area and a mortar shell hit inside a community in the Eshkol Regional Council. An IDF soldier was lightly wounded, suffering shrapnel injuries to his legs and back.

The defense establishment has noted the differences between Hamas' political bureau, which keeps signalling that it is not interested in an escalation, and the military wing, Izz ad-Din al-Qassam, which continues to act aggressively against Israel. The assessment is that the military wing is acting out of anger and intends to take advantage of the outrage following the murder of Mohammed Abu Khdeir in East Jerusalem last week.

Hamas propaganda video: Your leaders condemned you to death

The unrest is clearly felt in Judea and Samaria, but it is limited to known centers of friction and is not gaining speed and momentum at the moment. Hundreds of Palestinians are taking part in rioting in those areas, most of them minors, unlike the thousands who took part in previous riots in the West Bank.

Defense sources said that if there are no casualties among the rioters, the protests could be contained within days. IDF, Border Police and police forces are operating with restraint and using crowd dispersal such as tear gas and rubber bullets. So far, there have been no incidents of live fire at all.
RPG attack
In a rare incident Monday, terrorists from Gaza fired an anti-tank RPG at IDF troops performing routine work along the border fence near Kibbutz Re'im. The troops returned fire; no one was hurt and no damage was caused as the missile exploded before it hit the military vehicle at which it was aimed.
Earlier Monday, the IAF killed two terrorists that Palestinians said belonged to the Islamic Jihad military wing. The IDF said the terror cell was about to launch rockets at Israel.
'Is this routine?'
In addition, access to Kibbutz Kerem Shalom by the Gaza border was restricted late Monday morning, and civilians not living there were barred from entering. Military police cordoned off the area and stationed roadblocks on Route 232.
Starting Sunday, IDF is sending large forces to area to enhance security in the kibbutz, where more than 30 families live.
Earlier Monday, the kibbutz's residents declined an offer to leave the area with their children for "fun" activities away from the stressful reality of Kerem Shalom. Residents said the kibbutz holds activities for children in safe areas, and that this was the most familiar and comfortable environment for them.
The rising tensions and IDF's moderate response has raised the ire of the residents of the south, and Sderot residents were expected to protest starting Monday. Residents from other Gaza border communities might join them.
The residents plan to protest outside the Cinematheque in Sderot and call on the government to stop with its policy of restraint and start responding to the incessant rocket fire.
"The rockets continue exploding over the homes of residents in the Gaza border communities, and the legal definition of this situation is 'routine,'" the head of the Eshkol Regional Council, Chaim Yalin, said on Sunday night. "The defense cabinet is refusing to make a decision and is leaving the citizens in a state of uncertainty.
"Is this routine, when 20 rockets explode a day, that this country is willing to accept and raise its children in?"
Former Shin Bet head Avi Dichter told Ynet: "We must focus on how we're going to destroy Hamas' military capabilities in Gaza. This is not a three-week operation like Cast Lead and not an eight-day one like Pillar of Defense. This will take over a year. This is a move we can't avoid. While we can't destroy ideology, we can destroy a terror organization."