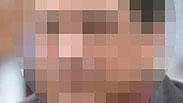 The suspect
Photo: Hagai Aharon
Police arrested one of the leaders of the Abnaa el-Balad movement on Monday on suspicions of incitement, organization and involvement in protests and riots in Umm al-Fahm and other places.

He is suspected of organizing solidarity rallies with the Palestinian people in Wadi Ara over the weekend, as well as a protest two weeks ago during which participants called for the kidnapping of soldiers.

The suspect, who will be brought in front of a judge at the Haifa Magistrate's Court for a remand extension on Tuesday, told Ynet on Sunday: "We're planning a protest this coming Friday in Nazareth in solidarity with the Palestinian people, and in protest of the murder of Mohammad Abu Khdeir from Shuafat." Nazareth Mayor Ali Salam, however, said there won't be a protest in the city.

The suspect is a political activist well known in the Arab sector, and a member of the High Follow-Up Committee for Arab Citizens of Israel.

Abnaa el-Balad is a movement that includes mainly Israeli-Arab members, that believes in the right of return for Palestinians and in a binational state for Jews and Arabs from the sea to the Jordan River.

Sources close to the suspect told Ynet: "Large police forces arrived at his home and arrested him. We understand he's being suspected of incitement. The police's behavior towards him is disgusting and we hope he is freed soon. If he isn't - the anger will grow and the protests will continue."

Police said the suspect was arrested on suspicion of involvement in riots and forbidden gathering over the past week in Wadi Ara. "After we receive the authorization of the attorney general, the suspect will be investigated on suspicion of incitement as well."

This is the first time a central Israeli-Arab leader is arrested. So far, police arrested protesters and focused on attempts to restoring the peace, urging mayors, sheiks and local leaders to help quell the rioting.

Northern District police will bring on Monday some 50 suspects arrested during rioting in the past 24 in front of a judge for a remand extension at Nazareth courts. Among those arrested were close to 20 minors.