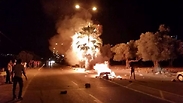 Several dozen masked Palestinians threw Molotov cocktails and improvised gas grenades at police forces in Shuafat late Monday night, next to an area in which the family of Mohammed Abu Khdeir was mourning.

Police fired stun grenades at the masked protesters. No injuries were reported.

Earlier in the night some 50 Palestinians, some of whom were masked, were throwing rocks next to Tamra just north of Haifa. Six were arrested by police.

Dozens of people also rioted and fired fireworks in Beit Safafa near Jerusalem. Three have been arrested.

Arab protesters rioted overnight Sunday in East Jerusalem and a number of neighborhoods in the capital after a tense day which saw security forces arrested six men for the murder of the Palestinian teen Mohammed Abu Khdeir. Some 15 silent protests took place in Arab communites across Israel without incident.

A number of right-wing Jews demanding revenge for the death of the three Israeli teens also rioted in the capital.

In the Shuafat neighborhood, from which Abu Khdeir originated and was scene to the kidnapping itself, over 100 Arab youths, some who were wearing masks, pelted police forces with stones. Similar scenes were reported from the Abu Tur neighborhood. Police forces were present at both areas.