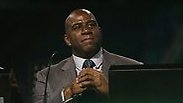 Magic Johnson. Headed to Israel
Photo: AP
Earvin "Magic" Johnson, Jr., one of the greatest basketball players of all times, will arrive in Israel on September 4 to attend the inauguration ceremony of the new Jerusalem Arena, Yedioth Ahronoth has learned.

Johnson's participation in the event was initiated by Jerusalem Mayor Nir Barkat together with the Foreign Ministry and the Israeli Consulate in New York.

Role Model

Gasol's first visit to Israel focuses on basketball workshop for Jewish and Arab children to promote peace and coexistence.

The NBA management agreed to send 10 present and retired basketball stars for a festive exhibition game against the Hapoel Jerusalem club. The game will be the highlight of the inauguration events for the new multi-purpose sports arena in the capital's Malha neighborhood.

The Jerusalem Arena will be one of the most advanced sports facilities ever built in Israel, competing against similar facilities worldwide. The municipality's goal is to turn the Malha area into the capital's international sports district which will host major international events.

The NBA stars' visit to Israel will be funded by donations. According to the organizers, the inauguration ceremony will also include performances by leading international artists, whose names they refused to reveal at the moment.

Magic Johnson began and ended his career in the Los Angeles Lakers, winning five NBA championships with the team. He holds a personal record of three NBA Most Valuable Player (MPV) awards both in the season and in the finals.

He first retired from basketball in 1991 after announcing that he had contracted HIV. Many in the United States praised him as a hero, and even former US President George H. W. Bush said that "for me, Magic is a hero, a hero for anyone who loves sports."

Johnson returned to play in the1992 All-Star Game, winning the All-Star MVP Award. He then retired again for four years, returning in 1996 to play 32 games with the Lakers before retiring for the last time.

In 2002, he inducted into the Naismith Memorial Basketball Hall of Fame. Today Johnson is part of a group of investors that purchased the Los Angeles Dodgers in 2012 and the Los Angeles Sparks in 2014.

Danny Adeno Abebe contributed to this report.