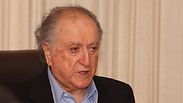 דוד עזריאלי
Photo: Ofer Amram
David Azrieli, the founder and controlling shareholder of Israeli real estate developer Azrieli Group, died on Wednesday at the age of 92, the company said.

Azrieli, an architect by profession, stepped down last week as chairman of the group due to poor health. He died in his home north of Montreal. His daughter Danna is serving as acting chairwoman.

Azrieli Group has numerous investments in Israel, building the country's first shopping malls and Tel Aviv's landmark Azrieli Centre, a complex of office towers and shopping areas.

Born in Poland in 1922, Azrieli survived the Holocaust and fought in Israel's War of Independence before moving to Canada, where he made his fortune in real estate. He opened Israel's first mall in a Tel Aviv suburb in 1985.