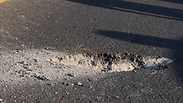 Damage caused by rocket fired from Lebanon
Photo: Aviyahu Shapira
At least one rocket fired from southern Lebanon exploded early Friday morning in an open area near Metula, Israel's most northern town sitting on the Lebanese border.
IDF Spokesman Brig.-Gen. Motti Almoz said a rocket fell near Kibbutz Kfar Yuval and that the military was checking for more details on the source of the firing. There were no casualties or damage.
It was unclear who was behind the attack. Southern Lebanon is a stronghold of Hezbollah, a Shi'ite Muslim group that battled Israel seven years ago and is engaged in Syria's civil war in support of President Bashar Assad; but there are also Palestinian groups in the same area.
Lebanon's news agency NNA reported that at 6:30am two rockets were fired from the Hasbaya area.
There were five rockets fired in total from southern Lebanon, Lebanese security sources said. Two entered Israel, one fell into Lebanese territory and two more were intercepted. Israel has only confirmed the firing of two rockets - one that entered Israel and the other that exploded inside Lebanon at around 2am because of a technical failure.
Lebanese security forces and United Nations peacekeepers immediately arrived in the area and began searching for the perpetrators of the rocket fire.
Lebanon's state-run National News Agency said that one of those suspected of firing the rockets was wounded and rushed to a hospital. The Lebanese military said troops found two rocket launchers and dismantled them.
Israel responded to the rocket fire nearly an hour later with a barrage of artillery fire at targets across the border. Lebanese sources said Israel shot back around 25 shells.
The IDF sent a message to UNIFIL forces in Lebanon informing them of the rocket fire as is customary in cases of a breach in agreements between the two countries.
Meanwhile, security forces in Israel continued searching for a second rocket that was reported by Lebanese media but was unconfirmed by Israel.
A Polish aircraft which was due to land at Ben-Gurion Airport Friday turned around mid-flight due to the rocket fired from Lebanon. The LOT pilot was told to wait in midair before beginning his approach to Ben-Gurion. The pilot decided to land in Larnaca, Cyprus and after waiting there for some time he took off again and flew back to Poland.
IDF spokesperson Lt. Col. Peter Lerner said Israel has suspected that Lebanese militants may try to join the fray as Israel exchange fire with Islamic Hamas militants in Gaza. However, he said it was still unclear whether Friday's attack was "symbolic or something more substantial."
There have been several exchanges across the border in the past year.
In December, rockets launched from Lebanon struck northern Israel, provoking a response across a border that had been largely quiet since a war in 2006. In August, Brigades of Abdullah Azzam, an organization linked to al-Qaeda claimed a rocket barrage from Lebanon.
But this rocket is the first to be fired from Israel's northern neighbor since the beginning of increasing tensions with Gaza where Hamas and Islamic Jihad have been launched hunderds of rockets, including long-range missiles, bring most of Israel within their range.
The Associated Press and Reuters contributed to this report.