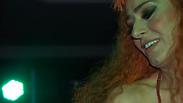 A popular Turkish female pop singer was under pressure Friday to make a public apology after she posted a succession of anti-Semitic tweets over Israel's air campaign in Gaza.

Yildiz Tilbe, who has been making folk-influenced hit albums since the 1990s, appeared to praise Hitler in the tweets and say the end of the Jews was near.

"If God allows, it will be again Muslims who will bring the end of those Jews, it is near, near," she tweeted on her official account @YildizzTilbee.

Related stories:

"They (Jews) are hostile to Allah and all prophets including their own prophet Moses."

In another tweet she appeared to praise Hitler for the mass extermination of Jews in the Holocaust, writing "May God bless Hitler".

The Jewish Community of Turkey condemned the singer's tweets as "racist and inciting hatred," calling on judicial authorities to "immediately start necessary legal procedures" under the country's penal code.

Over 120 Palestinians have now been killed in Israel's air campaign against Gaza, causing grave international concern.

The comments also went viral on social media where a petition campaign was launched to convince the singer to offer an apology.

Tilbe wrote after the criticism that she was not racist.

"There is oppression against Muslims everywhere in the world. Is there any single American or Jew being massacred, whose country is bombed or whose people are killed?"

This was not the first time Tilbe expressed anti-Semitic and anti-Israel views. During the 2006 Second Lebanon War, Tilbe said in a TV appearance "May God bring down one disaster after another upon Israel," to which the studio audience replies: "Amen."

Turkey is one of few majority Muslim states to have full diplomatic relations with Israel but ties have deteriorated seriously under the rule of the Islamic-rooted Justice and Development Party (AKP).

Prime Minister Recep Tayyip Erdogan, who has dominated politics in Turkey for over a decade, is known for his angry outbursts at the Jewish state.

The mayor of Ankara, Melik Gokcek, a senior member of the AKP, backed the singer's Gaza tweets, retweeting most of her comments except the one on Hitler, calling them "full of intelligence".

"I applaud you Yildiz Tilbe for the messages you deliver to many of your colleagues and especially to the Turkish nation," he wrote.

Tilbe released her debut album in 1994 and has enjoyed growing fame since then. She writes most of her songs and also composes for other singers including Turkey's internationally-renowned pop star Tarkan.