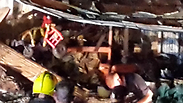 House in Western Galilee moshav that was hit by rocket from Lebanon
Photo: Ido Becker
For the first time since the beginning of Operation Protective Edge, three rockets fell in open areas in the Western Galilee on Saturday night.
All three rockets fell in the western Galilee. One caused damage to a moshav, another fell near a kibbutz, and the third fell near Shlomi. A Lebanese security source said three rockets had been fired from Lebanon.
The IDF responded to the rockets with artillery fire towards the source of the rockets lauching.
The rockets were reportedly 122mm Katyusha rockets, and they were being examined by the IDF and police.
Israel has also reported the rockets to UNIFIL forces in the area.
Sirens blared at 10:42pm in Nahariya, Shlomi and Rosh Hanikra, among other areas. Northern residents were surprised of the siren that cut through the relative quiet the area has been enjoying recently.
Several municipalities in the Western Galilee have decided to open their public bomb shelters.
The IDF North Command spokesman said there was no change in military instructions to the civilian population in the area.
Southern Lebanon is a stronghold of Hezbollah, a Shi'ite Muslim group that battled Israel seven years ago and is engaged in Syria's civil war in support of President Bashar Assad; but there are also Palestinian groups in the same area.
Palestinian militant group Hamas, battling with Israel from Gaza, claimed responsibility for the rocket fire from Lebanon, though it was unclear what kind of influence or presence the Islamist group had there.
On Friday, around 6:30am, a rocket fired from Lebanon exploded near Metula. No one was hurt and light damage was caused. The IDF returned fire with artillery shells.
Two of those involved in the shooting were arrested several hours later. The Lebanese press reported one of them suffered serious burns all over his body caused by a malfunction in the rocket launching. Lebanese media reported the man was a former operative of the Jemaah Islamiyah, an organized linked to the Muslim Brotherhood.
Reuters contributed to this report.