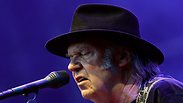 Escalating security situation in Israel disrupts Neil Young's plans
Photo: EPA
Legendary Canadian musician Neil Young's concert in Israel, which was scheduled to take place at Tel Aviv's Yarkon Park on July 17, has been canceled by the Israeli authorities due to the IDF's operation in Gaza and the ongoing rocket fire from the Strip.

"It is with deep regret that we are forced to announce the cancelation of the Neil Young and Crazy Horse show,

Before Cancellation

Pink Floyd founder posts open letter to Canadian musician, reminding him of his past refusal to perform in South Africa protesting Apatheid Regime.

which was planned for this Thursday at Yarkon Park," the Shuki Weiss production company said in a statement Sunday morning.

The company added that the decision was made "in light of the missile attacks in recent days and the fear for the audience's safety at an event with so many participants. Information about refunds and the ticket cancelations will be published by Friday in a press release and at the ticket offices."

The Tel Aviv concert would have been Neil Young's second visit to Israel.

In the summer of 1995, he performed with Pearl Jam members, without lead vocalist Eddie Vedder, at Jerusalem's Sultan Pool and at the Caesarea Amphitheater.

Vedder on Friday apparently launched a blistering attack on Israel during a Pearl Jam concert in the UK.

"They're looking for a reason to go across borders and take over land that doesn't belong to them and they should get the f*** out and mind their own f***ing business," he said. "We don't want to give them our money; we don't want to give them our taxes to drop bombs on children."