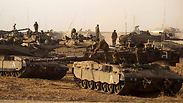 IDF troops on the Gaza border
Photo: EPA
Even though the Security Cabinet has yet to officially discuss an initiative to offer $50 billion in economic aid to Gaza in return for the demilitarization of the Strip, Lebanese media claimed Sunday evening that Israel has already presented the offer to the international community.

The Lebanese Al Mayadeen television channel reported that the Israeli leadership wants international guarantees, like the ones provided as part of the agreement to remove chemical weapons from Syria.

Israel's demand for American sponsorship of a possible ceasefire agreement is delaying efforts by the Palestinian Authority, Qatar, Egypt and Turkey to bring an end to hostilities, the network reported.

A senior official among the armed factions in Gaza responded to the report, saying "the resistance can't abandon its capabilities to defend Gaza and the Palestinian people."

He insisted that "talks of a ceasefire are an Israeli deception. We don't care about (Prime Minister Benjamin) Netanyahu's terms. These are delusions that won't come true."
International ceasefire push
US Secretary of State John Kerry called Netanyahu on Sunday to renew a US offer to help mediate a truce.

Kerry "highlighted the US concern about escalating tensions on the ground," a senior State Department official said, and told the Israeli leader that he was engaged with regional leaders "to help to stop the rocket fire so calm can be restored and civilian casualties prevented".

US Secretary of State Kerry, British Foreign Secretary William Hague, German Foreign Minister Frank-Walter Steinmeier and French Foreign Minister Laurent Fabius met on Sunday on the sidelines of the Iranian nuclear talks in Geneva to discuss the escalating situation in Gaza.

A German Foreign Ministry spokesman said Steinmeier will travel to the Middle East on Monday to meet with Netanyahu and Palestinian Authority President Mahmoud Abbas.

Steinmeier called for an end to "Hamas rocket terror", in comments to newspaper Bild am Sonntag published on Sunday, and urged a "coalition of reason" to stop the conflict escalating.

Germany mediated a prisoner swap in 2011 in which Gilad Shalit, who was held by Hamas, was freed in exchange for more than 1,000 Palestinians jailed by Israel.

Italy's foreign minister, Federica Mogherini, whose country currently holds the EU presidency, will also meet with Netanyahu and Abbas in the coming days. Mogherini will arrive in Israel on Tuesday and stay until Thursday. She will then visit Egypt, who played a key role in mediation between Israel and Hamas in the past, on Friday and Saturday.

"There needs to be an immediate ceasefire," Mogherini said. "The Israeli-Palestinian conflict has already devastated too many generations.... The time has come for the international community to find the unity and courage to end one of the longest wars of modern history," she said.

Mogherini had already discussed the escalating crisis in Gaza on Sunday with French Foreign Minister Fabius and German Foreign Minister Steinmeier. She was also scheduled to speak to British Foreign Secretary Hague.

Fabius said that securing a ceasefire for the Gaza Strip and preventing an escalation of the latest outbreak of hostilities between Israel and the Palestinians was top priority for France.

"In Gaza and Israel the absolute priority is a ceasefire," Fabius told reporters ahead of a side discussion on the latest outbreak of hostilities in Gaza with US Secretary of State Kerry, British Foreign Secretary William Hague and German Foreign Minister Steinmeier.

"In this context of a dangerous escalation, France asks for a return to the 2012 ceasefire," he added. Hague echoed Fabius' called to reinstate the truce struck after Operation Pillar of Defense.

French President Francois Hollande tried to rally Arab and Muslim leaders to push for a cease-fire in Gaza, holding telephone talks over the weekend with Turkish Prime Minister Recep Tayyip Erdogan and Tunisian President Moncef Marzouki.

Marzouki spokesman Adnane Mancer said the French and Tunisian presidents agreed that Marzouki would try to talk to Hamas leaders and urge a cease-fire, while Hollande would try to do the same with other parties. A French presidential official said Hollande was talking to Israeli, Palestinian and other Arab officials.

Egypt, meanwhile, said President Abdel Fattah al-Sisi spoke to the UN chief Ban Ki-moon. Al-Sisi's spokesman quoted Ban as praising Egyptian efforts to halt the fighting and affirming that "Egypt is the most capable party to effectively participate in reaching a calm between the two sides."

Roi Kais, Moran Azulay, Reuters and the Associated Press contributed to this report.