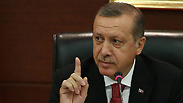 Recep Tayyip Erdogan
Photo: AP
Turkish Prime Minister Recep Tayyip Erdogan on Tuesday stepped up his rhetoric against Israel over its deadly air offensive on Gaza when he compared Israel to Adolf Hitler, Turkish daily Hurriyet reported.
Erdogan reportedly told members of his party that Israel's policies regarding the Palestinians were no different to the mentality of the Nazi leader.
Referring to a purported remark by a Knesset member that "all Palestinians are our enemies," Erdogan reportedly said this was no different to the views of Hitler. "If these words had been said by a Palestinian, the whole world would have denounced it," Hurriyet quoted him as saying.
Related stories:
Presenting himself as the sole world leader speaking up for the Palestinians, Erdogan said that any normalisation in the troubled ties between Israel and Ankara was currently out of the question.
"Israel is continuing to carry out state terrorism in the region. Nobody, except us, tells it to stop," Erdogan told members of his ruling party in parliament, accusing Israel of perpetrating a "massacre" of Palestinians.
"To what extent will the world remain silent to this state terrorism?"
Supporters from his Islamic-rooted Justice and Development Party (AKP) often interrupted his address by shouting slogans like "Murderer Israel!".
His comments came after a week of the deadliest violence in the Gaza Strip for years which has claimed at least 192 lives, sparking international condemnation.
Israel on Tuesday accepted an Egyptian proposal for a ceasefire, despite a Hamas decision to turn down the US-backed truce.
Erdogan welcomed the ceasefire proposal as "very positive" and "precious".
"I hope this ceasefire will be secured," he said.
"But it appears that the blood of innocent Palestinian children is being exploited in the dirty politics of the Middle East," he said.
Erdogan is due to host Palestinian Authority President Mahmoud Abbas in Turkey for talks on Friday.
Ties between Israel and Turkey hit an all-time low after Israeli marines stormed a Gaza-bound Turkish ship in 2010 while in international waters. Ten Turks were killed.
Encouraged by the United States, there had been progress toward a normalization of ties. But Erdogan said this could not be considered as long as the Israeli offensive continued.
"The Israeli state must know that it is out of the question to normalize our relations if those massacres continue," he said.
Erdogan sees himself as a champion of the Palestinian cause and is also keen to underline his credentials as a global Muslim leader ahead of August 10 presidential elections in which he is standing.
"You are no longer alone and will never be," said Erdogan, referring to the Palestinians.
Until the rise to power of Erdogan's AKP, NATO member Turkey was seen as Israel's key ally in the Islamic world and Middle East.