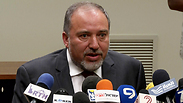 Avigdor Lieberman
Photo: Eli Mandelbaum
"We need to end the operation with the IDF controlling the Gaza Strip," said Foreign Minister Avigdor Lieberman at a press conference in the Knesset on Tuesday.

The Yisrael Beiteinu leader addressed the failed ceasefire with Gaza militants and the decision to renew the IAF airstrikes on the Strip in the wake of the continuing rocket fire.

"We unilaterally took on the disengagement and returned every last millimeter of the Gaza Strip. We evacuated all the communities and all the residents and transferred Gaza to Abu Mazen. When I look at the result and the international demand that we return to the '67 border, I say what next?"

The rightwing politician continued: "Will we be able to return to the daily routine? Because of that the international community must give its full support to do what it takes. We do not need to respond, we need to lead."

Israel's top diplomat emphasized that "there is no other way to act other than have the IDF in full control of the Gaza Strip. Even if we had reached that ceasefire, what is a ceasefire? It's preparation for the next round."

Lieberman stressed that "in every ceasefire, Hamas will continue to manufacture rockets and explosives. It is clear that Hamas will continue to develop tunnels. Every attempt to reach a ceasefire is essentially a silent acceptance that Hamas will continue to develop weaponry."

"That's why I reiterate that now, right now, in the wake of the flagrant violation by Hamas of the Egyptian ceasefire initiative, I think that we need to come to clear and sharp decision. We cannot suffer and hesitate. We must exude determination. We must go all the way and there is no other alternative."