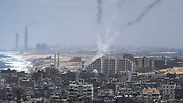 Rockets launched from the Gaza Strip
Photo: AFP
JERUSALEM - The UN agency for Palestinian refugees UNRWA said Thursday it was investigating after finding 20 rockets hidden in one of its vacant schools in the Gaza Strip.

It condemned the incident as a "flagrant violation" of international law and said the rockets had been removed and the "relative parties" informed.

"Yesterday, in the course of the regular inspection of its premises, UNRWA discovered approximately 20 rockets hidden in a vacant school in the Gaza Strip," the agency said in a statement.

"UNRWA strongly condemns the group or groups responsible for placing the weapons in one of its installations," it continued.

"This is a flagrant violation of the inviolability of its premises under international law."

It said the incident was the first of its kind, warning that it "endangered civilians including staff and put at risk UNRWA's vital mission."

The statement said UNRWA "informed the relevant parties and successfully took all necessary measures for the removal of the objects."

"UNRWA has launched a comprehensive investigation."

Israel regularly accuses Hamas and other Gaza militants of using civilian installations to store and launch rockets, including during the current conflict that began on July 8.

Gaza militants have fired hundreds of rockets since the latest violence began, with Israel launching punishing air strikes that have killed 221 people and forced thousands to flee.

Around 22,000 people who have fled their homes have taken refuge in UNRWA schools, but the one where the rockets were found was not being used.