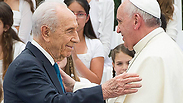 Pope with Peres
Photo: AFP PHOTO / OSSERVATORE ROMANO
US President Barack Obama spoke at a White House press conference Friday, confirming that he had talked with Prime Minister Benjamin Netanyahu and "reaffirmed my strong support for Israel to defend itself."
"While I was having the conversation with Prime Minister Netanyahu, sirens went off in Tel Aviv," said Obama. "No nation should accept rockets being fired into its borders or terrorists tunnelling into its territory."
While his support for Israeli action was clear, the president also had words of caution for Netanyahu. "We (understand) that the current military ground operations are designed to deal with the tunnels. We are hopeful that Israel will continue to approach this process in a way that minimizes civilian casualties."
Meanwhile, Turkish Prime Minister Recep Tayyip Erdogan intensified his fiery rhetoric against Israel over its ground invasion of Gaza, accusing the country of state terrorism and genocide and saying the two countries will not mend ties on his watch.
Erdogan told reporters after Muslim Friday prayers: "Israel threatens world peace. Israel threatens peace in the Middle East. Therefore, I personally, can never contemplate anything positive with Israel as long as I remain on duty."
"Israel is at the moment waging terrorism; Israel at the moment is carrying out genocide," he said.
Earlier, hundreds of protesters pelted the top Israeli diplomat's residence in Ankara with stones, and the private Dogan news agency said police in Istanbul used tear gas and water cannon to disperse protesters trying to enter the Israeli Consulate grounds. Turkish legislators leaving a late-night debate in parliament also protested against Israel.
Turkey intensified security around Israeli missions but the demonstrations prompted Israel to call home the families of Israeli diplomats and to keep staff in the embassy and consulate to a minimum.
Tzachi Moshe, a spokesman for Foreign Minister Avigdor Lieberman, said Israel "sharply protested the flagrant violation of diplomatic rules."
Erdogan has strongly spoken out against Israel's bombardment of Gaza and said the operations are derailing Turkish and Israeli efforts to mend ties.
"I'm warning Israel once again that there will be much more serious consequences if it does not stop its aggressiveness and the escalation of incidents," Turkish President Abdullah Gul told reporters before a meeting with Palestinian President Mahmoud Abbas. Gul urged the UN Security Council to take a stand.
Using his Twitter account, Turkish Foreign Minister Ahmet Davutoglu said the ground operation is testing "the conscience of humanity."
Davutoglu also called on Israel and Hamas, the Palestinian Islamist movement that rules Gaza, to reach a permanent ceasefire.
"Turkey will not remain silent in the face of any pressure or tyranny... The land offensive on Gaza is a black stain on the international community," he told a conference in Istanbul.
International concern
Pope Francis telephoned President Shimon Peres and Palestinian President Mahmoud Abbas on Friday to express his "very grave concerns" over the conflict in Gaza, the Vatican said.
The pontiff, who hosted a prayer meeting with the two leaders in the Vatican last month, called on all sides to work for an end to hostilities and for peace and reconciliation.
Breaking with some of her EU counterparts, German Chancellor Angela Merkel backed Israel, and said the "new quality" of Hamas' rockets gives it the right to defend itself. The French for the part have vowed to work for a ceasefire.
"Both sides must accept painful compromises but we stand by the side of Israel when it comes to self-defense," Merkel said at a news conference in Berlin.
Meanwhile, Russian President Vladimir Putin met with Iranian leader Hassan Rouhani to discuss Israel's ground incursion into Gaza. "Both sides stressed the need for a speedy end to the armed conflict and the resumption of direct Israeli-Palestinian negotiations," the Kremlin said.
Egypt, which attempted to broker a ceasefire which Hamas eventually rejected, said it would meet with representatives from Jordan and Saudi Arabia to work towards a ceasefire.
EU pressure
French Foreign Minister Laurent Fabius said in a statement Friday that he would be going to the region to push for a cease-fire and lasting truce "that responds to Israel's security needs and Palestinian economic needs." He urged Israel to show "restraint," calling it essential to protect civilian populations and avoid new victims.
Norwegian Foreign Minister Boerge Brende condemned Israel's ground operation in Gaza, only two days after visiting Israel and being forced to take cover in a bomb shelter in Ashkelon.
"This is an unacceptable action, especially when a ceasefire could have been reached," said Brende, and added that he warned Netanyahu against a ground operation, because "it would create a much bigger problem".
US backs Israel, urges calm
The United States on Thursday reaffirmed its stance that Israel has a right to defend itself but called on its close ally to restrict itself to a "precise operation" as the IDF launched a ground campaign in Gaza.
The US State Department said that during a phone call with US Secretary of State John Kerry, Netanyahu "explained his decision to launch an operation to target the threat of further terrorist infiltration through tunnels into Israel."
Related stories:
"The secretary reaffirmed our strong support for Israel's right to defend itself against terrorist threats emanating from tunnels into Israel and expressed our view that this should be a precise operation to target tunnels, as described in a statement from the Israeli Defense Forces," the department said in a statement released late on Thursday.
It said Kerry emphasized during the call the need to "avoid further escalation and to restore the 2012 cease-fire as soon as possible."
The State Department earlier in the day called on Israel to do more to prevent Palestinian civilian casualties in its conflict with Hamas after four children were killed on a beach in the Gaza Strip.
Even while stepping up US pressure for Israeli restraint, State Department spokeswoman Jen Psaki reasserted Washington's condemnation of Hamas' "indiscriminate rocket attacks" targeting Israeli civilians and affirmed US support for Israel's right to defend itself.
"We continue to urge all parties to do all they can to protect civilians," she told reporters at the State Department's daily briefing. "We have been heart-broken by the high civilian death toll in Gaza."
An Israel Navy gunboat off Gaza's coast shelled a Gaza beach on Wednesday, killing four boys - two aged 10 and the others 9 and 11 - from one family and critically wounding another youngster, according to witnesses and a Gaza Health Ministry official.
"The tragic event makes clear that Israel must take every possible step to meet its standards for protecting civilians from being killed," Psaki said.
Psaki also said: "I don't think we've made any secret about our concern, strong concern about the actions of Hamas, the indiscriminate rocket attacks, the targeting of civilians - and that concern remains."
She spoke just hours before an official statement from Netanyahu's office instructed the military to begin a ground operation "to hit the terror tunnels from Gaza into Israel."
Harsh words for Hamas, Israel
Jordan, the Arab representative to the UN Security Council, called for an emergency summit of the council to discuss the ground offensive. The councils is set to convene anyway to discuss the felling of a Malaysian airplane over Ukraine.
However, as the ground operation broke, Egypt, who had attempted to mediate a ceasefire, had harsh words for Hamas.
Egyptian Foreign Minister Sameh Shoukry strongly criticized the group Thursday night, saying that the Islamist movement could have saved dozens of lives if it had agreed to the cease-fire proposed this earlier week by Cairo, which had been accepted by Israel.
"If Hamas had accepted the Egyptian proposal, it could save the lives of at least 40 Palestinians," said Sameh Shoukry, according to official news agency Mena.
Palestinian President Mahmoud Abbas' spokesman, Nabil Abu Rudeineh, said Thursday night that the ceasefire efforts faced difficulties, but that the Palestinian president was not discouraged and the efforts were continuing.
The only way forward, Abu Rudeineh said, was to first stop the fire and then discuss the issues.
Abbas will meet Friday in Cairo with French Foreign Minister Laurent Fabius and then continue to Istanbul for a meeting with Turkish Prime Minister Reccep Tayip Erdogan as part of ceasefire efforts.