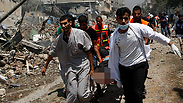 At least 65 Palestinians and 13 IDF soldiers were killed as Israel shelled a Gaza neighborhood and battled militants on Sunday in the bloodiest fighting in a near two-week-old offensive.

IDF shelling in Shejaia ( )

Palestinian Authority President Mahmoud Abbas accused Israel of carrying out a massacre in Shejaia in the eastern suburbs of Gaza City and declared three days of mourning.

The IDF said it was targeting militants from Gaza's dominant Hamas. The IDF said 8 percent of more than 1,700 rockets fired at Israel since July 8 came from Shejaia and that Hamas built tunnels and command centers there. The army said it had warned locals two days earlier to leave.

Residents of the neighborhood said Israeli tanks entered after midnight and fired heavily.

"The gate of hell has opened, and shrapnel came through the windows," Shejaia resident Jawad Hassanain said by phone. He said he and his family sought shelter in a nearby building after their house shook from the explosions.

"All you could hear is heavy bombardment, the smell of fire and the smell of death," he said.

After daybreak, dozens of wounded from Shejaia were rushed to Gaza's central Shifa Hospital. Frantic parents carried children bloodied by shrapnel, and the emergency room quickly overflowed, forcing doctors to treat some patients on mattresses in a hallway.

Cries of "Did you see Ahmed?" "Did you see my wife?" echoed through the hospital's courtyard. Inside, dead and wounded lay on blood-stained floors.

Palestinian health officials put the number of displaced at 35,000.

Shifa hospital's director, Naser Tattar, said at least 17 children, 14 women and four elderly were among the dead, and at least 288 people were wounded in the Israeli assault.

During a brief Red Cross-brokered lull, paramedics entered the neighborhood to retrieve the dead, pulling bodies from the rubble of homes. Dozens of houses over several blocks were destroyed or badly damaged, a scene reminiscent of Israel's last major incursion into Gaza more than five years ago when large areas near the border with Israel were devastated.

On late Sunday afternoon, Gaza rescue workers searching Shejaia for bodies heard the faint voice of a woman coming from under the rubble of a house.

"I'm here with my husband and niece," the woman said. "I am under the shop. ... God help, I can't breathe."

Rescue workers said the area was dangerous and that they would not be able to dig her out in time.

Among those killed in Shejaia were a son, daughter-in-law and two grandchildren of Khalil al-Haya, a senior Hamas leader. They were killed at the time of dawn prayers, Health Ministry official Ashraf al-Kidra said. Hamas' military wing said the cause of death as an airstrike on the family. The IDF had no immediate comment.

Gaza's Health Ministry officials said at least 433 Palestinians, many of them civilians, have been killed and about 3,000 wounded since Israeli air and naval bombardments began on July 8, followed by a ground push on Thursday.

Thousands streamed out of Shejaia, some by foot and others piling into the backs of trucks and sitting on the hoods of cars filled with families trying to get away. Several people rode out of the neighborhood in the shovel of a bulldozer.