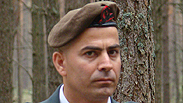 "I'm going back to Gaza," Golani Brigade commander Colonel Ghassan Alian, who was wounded this week during combat in the Gaza Strip, said Tuesday after being released from the Soroka Medical Center in Be'er Sheva.

Alian sustained light-to-moderate injuries during combat earlier this week. After his evacuation to the hospital, he spoke to his family by phone and made it clear that he intended to return to his troops in Gaza as soon as possible. Alian was hit by pieces of shrapnel, some of which went into his eye, but his eyesight was not permanently damaged.

After being released, the colonel went straight to visit his soldiers, also hospitalized in Soroka, in an attempt to give them strength.

"I'm leaving hospital to go to the unit," he said. "I was in touch with the battalion commanders regarding the IDF's accomplishments, and am returning to take command of the division, and move forward.

"The spirits in the division are strong and high. I visited the wounded fighters and I would have loaded them back inside the bus if I had had one available.We had a hard battle the morning I was wounded. A rocket-propelled grenade flew several meters over my head. I have a few scratches but I'm ok."

Alian vowed to return to the fighting with or without transportation.

"Even if I have to walk there, I will go back to Gaza. The division is currently continuing in its main mission: to uncover the tunnels and destroy as many terrorists as possible.

"We killed many terrorists, and that's what needs to be done. There were skirmishes in which we killed 10 and 15 terrorists. I hope I will return to the operation in the Gaza Strip soon. I want to send a warm embrace to the bereaved families. I could not see them all but plan on doing so. They give us strength."

Alian's condition was initially defined as moderate, but later improved. His doctors told him Monday that he had to stay in hospital for further tests, but he insisted on being released. "I have a lot of soldiers there and I have to get back to them," he said.

Colonel Ghassan Alian is the first officer with the Druze community is to serve as the Golani Brigade's chief.

Alian, a resident of the northern town of Shfaram, has served in many senior posts in Golani.