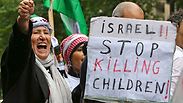 Pro-Palestinian protests in Paris
Photo: AP
Concerns of anti-Semitism flared in Belgium on Wednesday when police converged on a street cafe in Saint-Nicolas, near Liege, where the owner of the establishment had posted a sign in French stating, "Dogs are allowed in this establishment but Zionists are not under any circumstances."

An additional sign was hung in Turkish, which replaced the word "Zionists" with "Jews". The cafe's display was complete with an Israeli flag sporting a red X over it and an untouched Palestinian flag alongside.

The JTA reported that the Belgian League Against Anti-Semitism launched a formal complaint against the cafe, motivating the police response.

"LBCA will file in the coming hours a criminal complaint with the Liege prosecutor over the actions of those responsible for this violation of the July 30 law against racism and xenophobia of 1981," the LBCA said in a statement.

Governments across Europe have been exploring avenues to take action against anti-Semitism in recent weeks, as pro-Palestinian protesters have taken to the streets against Israel's Operation Protective Edge in the Gaza Strip.

The foreign ministers of Germany, France and Italy on Tuesday condemned the rise in anti-Semitic protests and violence over the conflict in Gaza, saying they will do everything possible to combat it in their countries.

"Anti-Semitic rhetoric and hostility against Jews, attacks on people of Jewish belief and synagogues have no place in our societies," German Foreign Minister Frank-Walter Steinmeier, France's Laurent Fabius and Italy's Federica Mogherini said in a joint statement issued in Brussels.

Meanwhile, Germany's Jewish community on Monday condemned an "explosion of evil and violent hatred of Jews" at a recent string of pro-Palestinian demonstrations in the country.

Protesters waving Palestinian flags and signs of late leader Yasser Arafat have in recent days shouted anti-Semitic slogans at rallies against Israel's Gaza offensive, according to German media.

Exclaiming "Allahu Akbar" (God is great), crowds in Berlin have reportedly yelled "Death to Israel" and chanted "Zionists are fascists, killing children and civilians."