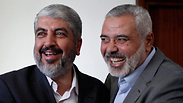 Hamas leaders Mashal and Haniyeh
Photo: Reuters
One does not need to be a great expert to realize that the damage to Gaza's infrastructure has been massive - it is enough to look at the pictures from the war zone. And while the Economy Ministry of the Palestinian unity government has issued a preliminary estimate of $3 billion in damages, it is clear that the final figure will be far higher, even as the fighting continues.
The Ministry has not said how it reached this estimate, but noted that the figure was reached after consultations with experts and economic bodies, including some in the Gaza Strip. In this respect, if the estimate does reflect the reality, the extent of the damage is already almost double the annual GDP of the Gaza Strip, which in 2013 was just $1.8 billion.
The Palestinian Authority in Ramallah, already under threat from the growing support for Hamas, is trying to show some initiative on rebuilding the Gaza Strip. The deputy prime minister announced earlier this week that the government has already begun consultations with various agencies on plans to rebuild the Strip.
With Israeli approval, the Palestinian Authority has so far sent several truckloads of aid to the Gazans. Although, of course, the level of distress and with the number of displaced standing at more than 100,000 people, the aid is purely symbolic
Palestinian Economy Ministry argues, among other things, that Israel has caused tremendous damage to the industrial area located in the Strip – a zone of 485 dunam (120 acres), which provided 2,000 jobs before the fighting began.
Bypassing Hamas
According to the Palestinians, in the two weeks since the IDF operation began, all economic activity has been completely paralyzed, including the key fishing industry. It has been reported that fishing port in Gaza has sustained several aerial attacks, causing significant damage to the infrastructure there. The Palestinian Authority wants to take the opportunity of the reconstruction work that will follow the military operation to expand the fishing port, allowing it to cater to up to a thousand fishing vessels simultaneously.
And even before the parties show a willingness to declare a ceasefire there are those looking ahead; the first agreement was signed this week for the reconstruction of Gaza. The UAE government has signed an agreement with the UN refugee agency UNRWA for the transfer of 150 million dirhams (some $40 million) earmarked for rebuilding the area.
The UAE government has stated that this money is solely intended for the rehabilitation of homes, hospitals and schools. This money will be transferred to UNRWA, with the intention of keeping out of Hamas' reach.
This is an important trend to watch for. The moderate Gulf States (Saudi Arabia, UAE and Bahrain) are making every effort to deprive Hamas of ever again getting its hands on the money going into the Gaza Strip.
Doron Peskin is head of research at Info-Prod Research (Middle East) Ltd