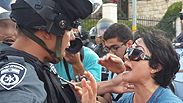 Zoabi argues with police officer
Photo: Mohammed Shenawi
A week after Balad MK Hanin Zoabi was handcuffed by a police officer for several minutes during a protest in Haifa, the attorney general on Friday authorized the police to open a criminal investigation into suspicions against her in another case.

Police Commissioner Yohanan Danino has instructed the police's intelligence and investigation department to open a criminal investigation, which will be run by the anti-fraud Lahav 433 unit.

A policeman from the Nazareth police station said he was accosted by Zoabi outside the Magistrate's Court in the city, where he arrived to testify against suspects of rioting. According to the policeman, Zoabi started swearing and hurling derogatory comments at him and another policeman who was with him.

He went on to say she turned to the dozens of people present at the scene in a way that raises the suspicion of insulting a public servant and incitement of violence.

The Police's Northern District passed on the complaint to the higher command, following which the police commissioner instructed the head of police investigation and intelligence to take all appropriate measures in order to examine whether a criminal investigation could be opened against the MK.

After examining the case, the head of the investigations department passed off the complaint to the state attorney with the recommendation to open a criminal investigation.

MK Zoabi said in response: "I welcome the decision to open an investigation that would also examine the behavior of police officers in all of the protests. I'm preparing a complaint to the police's Internal Investigations Unit against the police officers who pushed me and swore at me, hit me, pulled my hair and handcuffed me without justification."

She added that, "If the attorney-general is opening an investigation, maybe he ought to open an investigation into all of the policemen who broke the law with their brutal behavior towards me and other protesters. In any case, I will continue my just struggle all the more forcefully against the war crimes the IDF commits in Gaza and will continue my activism to remove the siege and end the occupation."

Following the protests in Haifa last week, Internal Security Minister Yitzhak Aharonovich wrote on his Facebook page that he intends to take any legal action possible in order to remove MK Zoabi's immunity.

"I'm ashamed of Zoabi's intentional and disgraceful behavior, which once again proved she is unworthy to be called a member of Knesset. To hurl derogatory words at a police district commander is a new low. I mean to make sure she is investigated and punished," he wrote.