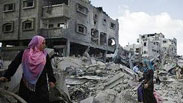 Israel's Health Ministry offered humanitarian aid worth millions of shekels to the Gaza Strip, but the Palestinian Authority has refused to accept it.

A senior Health Ministry official told Ynet that the aid is funded out of the ministry's budget, and includes medicine, chemotherapy and medical equipment that are ready to be transferred to the Palestinian Authority, after having been approved by the Coordinator of Government Activities in the Territories.

The Health Ministry said it would continue efforts to transfer the medical supplies to the Strip.

Meanwhile, the Health Ministry also helped build a field hospital operating at the Erez border crossing by the Medical Corps. The ministry has decided to allow any patient or wounded from the Gaza Strip to receive medical treatment in any of the Israeli hospitals should the need arise.

Earlier this week, Magen David Adom said it offered to send blood donations to the Strip in order to help wounded Palestinians, but the PA refused to accept that offer as well.

"Israel is going through a very difficult time, but we still got supplies from our stocks and budgeted aid worth millions of shekels for the residents of the Strip," Health Minister Yael German told Ynet. "In addition, we offered full medical treatment to the Gaza citizens in any of our hospitals and will continue to offer that."

"The State of Israel has no desire to hurt the people of Gaza. We didn't go to war to kill, but rather to defend the people of Israel, and will continue offering full humanitarian aid to the Palestinians for as long as we can," she added.