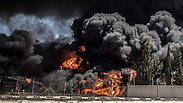 Explosion at Gaza power plant
Photo: EPA
An overwhelming number of Israeli Jews believe that the ongoing military operation in Gaza is justified and that the IDF has not used excessive firepower, according to a new series of polls by the Israel Democracy Institute.
Over the course of three surveys conducted in the past two weeks, an average of 95 percent of respondents said that Operation Protective Edge was justified, while only 3-4 percent said the IDF has used excessive firepower in Gaza. According to the poll, an average of 48 percent of Israeli Jews think the IDF is using an appropriate level of firepower and an average of 45 percent think the IDF is using insufficient firepower.
The respondents also looked relatively favorably on the government throughout the conflict, grading its performance, on average, 7.3 out of 10. The Home Front Command also scored highly, receiving an average grade of 8.9 out of 10. Local governments also performed well in public opinion, receiving an average mark of 8.3 out of 10.
The survey, however, did hint at a schism within Israeli society, with the Israeli Jewish respondents ranking the behavior of the Israeli Jewish public at 8.6 out of 10, but the Israeli Arab public at 3.6 out of 10.
The respondents also indicated a reluctance to halt the operation even temporarily as long as the rocket fire on Israel from Gaza continues. An average of 80 percent were opposed to a unilateral ceasefire lasting up to 48 hours if the rockets did not stop, and an average of 65 percent disagreed with an immediate ceasefire so as to negotiate a long-term calm. Furthermore, an average of 60 percent of respondents said there should be a ceasefire only after "an agreement on the conditions for sustaining quiet is reached."
A majority of respondents also believed that the operation would not put an end to the fighting with Hamas, with an average of 64 percent predicting a further clash. Only an average of 18 percent of respondents said they believed there would be long-term quiet similar to that which came into effect after the 2006 Second Lebanon War.
The three-poll survey was conducted among Israeli Jewish adults on July 14 (246 people), July 16-17 (185 people) and July 23 (216 people).