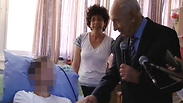 Peres visiting wounded soldiers
Photo: Assi Cohen
After visiting wounded IDF soldiers on Wednesday morning, former president Shimon Peres called on the cabinet to end the Gaza operation. The war in Gaza has "exhausted itself," Peres said, "and now we have to find a way to stop it."

The former president said it would take a while yet for the war to end.

"There are many different elements (among the Palestinians) and no real connections because there's no real army, so there's no real government," he said. "I hope at the end of the day, the other side will also reach the conclusion that the biggest victory is to end the war with diplomatic negotiations and peace on the horizon."

Peres said Palestinian Authority President Mahmoud Abbas "is the only one who has legitimate authority (in Gaza)," asserting that "the best move would be to give Gaza back to Abbas."


Abbas proved that "he knows how to run things in Judea and Samaria, he's in favor of peace and is also in favor of saving Gaza," Peres said.

The PA president "has the support of Egypt and the Arab world more than anyone else today," Peres added.

Despite having seen Israel's inception and living through all of its wars, the 91-year-old statesman was particularly emotional on Wednesday morning while visiting wounded soldiers in the Soroka Medical Center in Be'er Sheva.

"This is one of the most emotional visits I've ever had. I think this is a true story of bravery," he told reporters on his way out of the hospital.

"This was the war of an army against terrorists, but also a war of each soldier against men who have no respect for human lives, who are willing to murder. A war of brave men against men with no restraints, bastard men," he said in his first public outing after ending his term as president.

"You did a job no army has done before," Peres told one of the wounded soldiers. "You were operating in an area where every step could've landed on a landmine, and every building could've been booby-trapped. Normally, we'd read about people like you only in legends, in which people go in and out of hell. The difference between legend and reality is huge, and you are the reality that created a legend. You fought greatly; I don't think there were ever troops who faced such a test. There are no winners in this war, only rescuers and you saved the country."