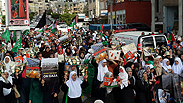 Protest in Tamra
Photo: Hassan Shaalan
Thousands of people protested on Saturday in Tamra, just north-east of Haifa, against the continuation of Operation Protective Edge in the Gaza Strip.

Those partaking were seen waving Palestinian flags, holding up pictures of people killed in Gaza, and displaying dozens of coffins with names of some of the casualties written on them.

The protesters were shouting "We'll sacrifice our live for Al-Aqsa and Gaza", "Saja'iyya will win" and "we're all Gaza."


They also criticized Egypt's president, saying "al-Sisi is a traitor, he's a partner in the siege."

The protesters said the war would not end until the Gaza blockade is removed.

"Every day that passes, our rage increases," one of the protesters said. "We can't see women and children and men killed and just stand by. It's time for the entire Arab sector to go out on the streets and protest against the bloodshed in Gaza that the government of Israel is responsible for. Netanyahu and Ya'alon are war criminals and must be punished for their actions."

The protest was organized by various Islamic Palestinian movements, and was attended by Sheikh Raed Salah and Sheikh Hamad Abu Daabes.

"We can't carry on with this painful situation," another protester said. "Every day that passes by, the number of casualties grows and so does the pain and range. All of the soldiers who were killed in the war are young, and they belong at university, not in a military zone. They're all children. Netanyahu and Ya'alon are responsible for the killing of children on both sides."

In Tel Aviv's Habima Square, 14 people were arrested in protests against the IDF operation in Gaza, after refusing police orders to disperse. The protesters blocked a nearby street before being arrested, and large police forces started guarding the area.

Elio Senyor contributed to this report.