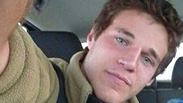 Sec.-Lt. Hadar Goldin
Photo courtesy of the family
Israeli singer David Broza was at the Yehud military cemetery on Sunday to sing his song "Mitahat LaShamayim" ("Under the Sky"), the song that was to be Captain Omri Tal and his girlfriend Liat Zimerman's wedding song. Instead, Broza's words floated through the air of the cemetery, over Omri's grave.

Before Broza started singing, Omri's girlfriend Liat said goodbye to her best friend. "We'll play a song for you, the same one we used to listen to together on the way back home from the train station after I picked you up. We used to hold hands and feel happiness and hope, we were filled with love. This is the same song that was supposed to be our wedding song," she said.

"The way we ended every conversation, we'll end this one as well: You ask - 'what am I?' and I reply 'love you.' Remember I love you too, always."

Thousands came to accompany Omri on his final journey. His father Yoran and brother Rotem said Kaddish.

"Omri, my angelic boy," his mother Esti eulogized him. "Near the end of your service you were debating on whether to go to pilots' course, and there you are in the sky without a course. You grew up to be a person who is fun to be around; you excelled in loving your fellow men and embracing strangers. You excelled in kindness. You were modest, and you didn't demand anything of us. You excelled in loving Israel. You toured the country coast-to-coast. You loved the ocean. You excelled in curiosity and in your thirst for knowledge. You were a magical boy, and a man of wonder. I always feared all of this beauty will be taken from us before your time."

She went on to talk about her last conversation with Omri. "In our last conversation you said, 'Mum, I'm not a child anymore.' That's right, you're not a child anymore, you're an angel. We mourn your death and will forever love you and be proud of the road you have walked. Now you can travel the fields of forever. Rest in peace."

Omri's brother Rotem spoke through his tears. "Omri, I'm sorry but I have no words to describe the person you were. You were a sympathetic ear. Anyone who got to know you instantly fell for your captivating smile. You were a symbol and an example to anything that is beautiful in this country. A boy who was born for freedom and open spaces. I'm sure you were the best officer the IDF had ever known. Omri, my brother, I love you very much. Protect us from harm from above."
'I thought we'd be a couple forever'
Second Lieutenant Hadar Goldin, a Givati officer who was declared dead on Saturday after Hamas has claimed to have kidnapped him on Friday, was laid to rest on Sunday evening in the Kfar Saba military cemetery.




Thousands of people, including distant-relative Defense Minister Moshe Ya'alon, as well as former IDF chief of staff Gabi Ashkenazi, attended the funeral.

"I thought we'd be a couple forever, I didn't think you'd leave me alone so soon," Edna Sarosi, Hadar's fiancée, said at the funeral.

"My Hadar, the love of my life, mine and ours, hero of Israel. I have no idea where to start. I don't know how to truly say goodbye to you, I only know how to say goodbye knowing I'll see you again, and even that is hard. I can't imagine you now, as dead, you're the most alive person I know in this world. You're all infinite life that could be detected in everything you are from your ear-to-ear smile, to your gleaming eyes, to the tips of your fingers," Edna said.

"You were always touching, every time anew. If we were debating something even a little, you'd say 'but Edna, it doesn't really matter to me, I just want you to be the bride.' I so wanted to be your bride, Hadar, I feel like you've introduced me to the greatness of life," she added.

Hadar's father, Dr. Simcha Goldin, said: "I didn't come here to eulogize Hadar, but to tell you about him. Hadar Goldin, a Golani officer, was a wonderful man, as wonderful as all of the other young people we buried of late. He was special in his own way, the way each and every one of those we buried was special. Hadar was convinced he touched people and you, in this big crowd, are the proof of that."

The father said that carrying on Hadar's way "would be Hadar's ultimate victory over total evil."

"Quite simply, Hadar was a person who could always see the way to find a smile everywhere, and the way to touch other people, and that's why it's so hard to mourn him and impossible to cry over him."

Hadar's twin brother Tzur said that "between us, we didn't need to talk in order to know, we were connected. I won't let go. We're two, living together and never saying goodbye. You life is mine and my life is yours."

"There's no strength like yours and there's no spirit like yours. Hadar, your dream has come true and your life and dreams will continue coming true. It would never be the same without you."

Itay Blumental, Gilad Morag and Raanan Ben Tzur contributed to this report.