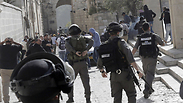 Clashes on Temple Mount
Photo: AFP
Several dozens of masked Palestinians began throwing rocket and Molotov cocktails at police forces in the Isawiya neighborhood in East Jerusalem on Monday afternoon. Police pushed the rioters back through the streets by using crowd control measures.
Meanwhile, more masked Arab youths threw stones and fireworks at police forces at the Mughrabi Bridge at the Temple Mount compound opened for visitors Monday morning. The rioters were arrested, adding to 12 that were detained overnight for involvement in riots in the city.
The rioters at the Al-Aqsa Mosque also set up blockades at both entrances of the compound to prevent police from closing the doors. Local police, Israel Police special patrol unit officers, and Border Guard officers eventually managed to break in and arrest the masked protestors inside the mosque.
Five officers were lightly wounded during the incident and received treatment at the scene. The police said that the situation in the Temple Mount is under control.
Overnight Sunday, Jerusalem police and border police officers arrested 12 people suspected of being involved in riots that took place during the last few days in the area of the city.
Since July 3, police forces arrested 430 suspected rioters and filed over 150 indictments.