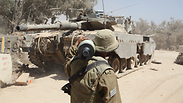 'We'll go back for another war under a different name'
Archive photo: Motti Kimchi
"It's a real disgrace that we're withdrawing, we gained nothing but dead soldiers," a reservist among the IDF troops pulled out of the Gaza Strip said Monday.
In light of the cabinet's decision to redeploy in Gaza, many reservists and regular troops are speaking out, urging the IDF to continue fighting Hamas.
"We have to finish what we started," said one reservist. "In this current situation, we'll have to come back here next year."
"They brought us here and worked us to the bone for a month; if they let us go and pull out this will all be for nothing," said another reservist, who also expressed reservations about the move. "We'll go back for another war under a different name, it's only the names that change.
"The company commander told us last Thursday that we're falling back; now all the forces are going to leave and once again, the Qassam rockets will start flying and reach further."
But for one conscript soldier, the decision was bittersweet. "It's a little difficult, because we're involved in it, but it's also comforting," he said. "They didn't tell us that this was going to happen. The death toll is higher than we expected. For us, this is joy mixed with sadness.
"Last week no one believed that a withdrawal will take place, today we are starting to comprehend it. There were a few ceasefires and we didn't take them seriously because we had orders to continue, but this morning it has become real."
'We need to have one operation and that's it'
Sounding a different note, a soldier in regular service said: "This withdrawal indicates that the campaign is nearing its end. It's difficult when soldiers get killed there. We hope this operation will be over and we'll be able to go back to the perimeter, to training. I only hope that the mission will be completed. From what we see and hear, the IDF succeeded in the missions it undertook."
Another reservist, who was able to return to his home for a short visit, said: "On the one hand we're happy it's over, but we feel like the mark has been missed. We should have gone 'all in'. In another year and a half, we'll be here again.
"I was here during Operation Pillar of Defense and I'm already looked forward to being called up again. They summoned us and we came within minutes, you don't leave after being drafted with a Decree 8 (emergency call-up for reservists). During Operation Pillar of Defense, we sat on the sidelines for 11 days and left as we entered. That must not happen again this time."
Daniel Amit, a reservist from Tel Aviv, said: "We were there during Operation Pillar of Defense, now we're here. The operation never ends properly. I don't want to end my life with military decorations on my chest for every operation.
"We need to have one operation, and that's it, (otherwise) we'll be coming here again and again. I came here with a feeling that we wouldn't finish this all the way through. I realized in advanced that we wouldn't do anything other than deliver some blows and weaken them."