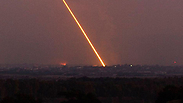 Rocket fire from Gaza
Photo: Reuters
Hamas is able to fire missiles into Israel because Tehran provided weapons technology to the militant group to defend itself against Israeli attacks, a senior Iranian official said Monday.

Officials from Iran's powerful Revolutionary Guards have said in the past that Fajr-5 missiles are part of Hamas' Gaza Strip arsenal, whose technology has been supplied by Iran and produced locally without needing direct shipment.

"Palestinian resistance missiles are the blessings of Iran's transfer of technology," the Secretary of the Expediency Discernment Council, Mohsen Rezaei, was quoted as saying by Al-Alam, the Arabic channel of Iran's state TV. "We need to transfer defensive and military technology to Palestinians so that they can build weapons under the blockade and defend themselves," he added.

Hamas has fired more than 3,200 rockets into Israel during the recent conflict, with some intercepted by Israel's Iron Dome defense system and many of the crude missiles landing in open areas away from cities. Israel, which launched its military operation in Gaza on July 8, has since carried out more than 4,600 airstrikes across the crowded seaside area. More than 1,880 Palestinians and over 60 Israelis have been killed in the fighting.

Rezaei, a former Revolutionary Guard chief commander, wrote to President Hassan Rouhani this week calling on him to provide air defense systems to Hamas to hit invading Israeli planes. He also said Hamas should dig tunnels to be used as shelter to protect Gaza's population from Israeli assaults.

"I've requested Rouhani to provide air defense systems to Gaza so that Palestinians can defend themselves against invading planes," he said, adding that Iran was not shy to publicly declare its military support for Hamas.

"The Americans in recent days approved about $300 million to strengthen (Israel's) Iron Dome. You should provide air defense systems to Palestinians to be able to defend their people against aerial bombardment," he said in the appeal to Rouhani.

Rezaei also urged Hamas to capture Israeli soldiers to use them as bargaining chips in its battle against Israel.

"Getting their soldiers captured is the weak point of Israelis. Should two or three be captured, all Zionists will surrender," he said.

Rezaei said Israel's goal in the ongoing war was to disarm Hamas and destroy its missile power, but that it has failed to do so despite discovering and hitting some underground tunnels.

"The Zionists seized some tunnels but they can't plow the entire Gaza Strip. Facilities where weapons are produced remain intact," he said.

Iran's Guard commanders have boasted that stone-throwing Palestinians are hitting Tel Aviv with missiles, thanks to Iran's support.

Supreme Leader Ayatollah Ali Khamanei, who has the final say on all state matters in Iran, called on Muslims from around the world last week to help arm Palestinians in the West Bank and Gaza to defend themselves against Israel.

Iran, a Hamas backer, does not recognize Israel and supports militant anti-Israeli groups such as the Palestinian Hamas and Lebanon's Shiite Hezbollah group.