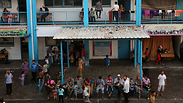 UNRWA school in Gaza
Photo: EPA
Hamas spokesman Sami Abu Zuhri said Tuesday that one of the main results of the operation was "the destruction of Israeli deterrence."
"The Palestinian people now have confidence in their ability to stand firm and fight," he added.
Meanwhile, Hamas officials told Hezbollah-affiliated Lebanese newspaper Al-Akhbar on Tuesday that "despite the fact the al-Qassam Brigades are bound by the ceasefire, they won't be afraid to respond to any infiltration or ground operation, even if it requires operating beyond the border."
Hamas official Ismail Radwan said the Islamist movement agreed to a ceasefire "on the condition the other side fills all of its terms and stops all forms of aggression in the Gaza Strip."
"We agreed on a truce on the condition Israel withdraws its forces, stop its aerial attacks and open the border crossing to aid, as well as accepts our demands on an airport and seaport."
In the Gaza Strip, where some half-million people have been displaced by the fierce fighting, some residents, carrying mattresses and with children in tow, left UN shelters to trek back to neighborhoods where entire blocks have been destroyed.
Gaza officials say the war has killed 1,834 Palestinians, most of them civilians. Israel says 64 of its soldiers and three civilians have been killed since fighting began on July 8, after a surge in Palestinian rocket launches.
Besides the loss of life, the war has cost both sides economically. Gaza faces a massive $6-billion price tag to rebuild devastated infrastructure. Israel has lost hundreds of millions of dollars in tourism, other industry, and fears cuts in overall economic growth this year as well.