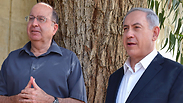 Defense Minister Ya'alon and Prime Minister Netanyahu
Photo: Ariel Hermoni, Defense Ministry
Prime Minister Benjamin Netanyahu said Tuesday as troops left the Gaza Strip that while there's no 100% guarantee all tunnels have been destroy, "we did everything to make the most of it."

The prime minister said the IDF delivered a blow to the strategic infrastructure Hamas spent years in the making.

"The ability Hamas developed by digging these tunnels would've allowed it to kidnap and murder many citizens and IDF soldiers by attacking simultaneously from many tunnels that infiltrate our borders," Netanyahu said.

He congratulated the IDF and Shin Bet for completing the destruction of 32 terror tunnels in the Gaza Strip.

"This is a complicated mission done by heroic soldiers under harsh fighting conditions," Netanyahu said.

"I would like to congratulate the IDF chief of staff, the GOC Southern Command, the commanders, troops and Shin Bet men, who were all highly motivated with fighting spirit that led to a very impressive result," he added.

He also sent his condolences to the families of the fallen soldiers and murdered citizens.

"I've been speaking to all of them and telling them there is no more just battle than the one that claimed their sons' lives. The entire nation embraces you."