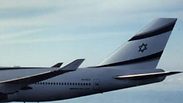 El Al plane. 'Heavy crisis'
Israel's three airlines – El Al, Arkia and Israir – have suffered heavy losses following the Israeli operation in Gaza.

The companies' chief executive officers sent an urgent letter to government ministers this week, demanding benefits, loans and compensation in order to "prevent the dismissal of many employees, both in the airlines and among their suppliers."

El Al CEO David Maimon, Israir CEO Uri Srikis and Arkia CEO Nir Dagan wrote in a letter addressed to Finance Minister Yair Lapid, Economy Minister Naftali Bennett, Transportation Minister Yisrael Katz and Tourism Minister Uzi Landau that Operation Protective Edge had serious ramifications for the Israeli airlines.

Heavy Toll

Damage to incoming tourism and hotel industry in third quarter of 2014 estimated at $500 million with 34% drop in number of foreign visitors.

"The Israeli airlines are dealing with a heavy crisis which includes, among other things, an almost complete halt in incoming tourism, a considerable drop in the number of Israelis flying out of the country, significant damage to domestic aviation, a rise in operational costs as a result of extending flight path in international and domestic flights, a significant rise in salary expenses due to the extensive call-up of reserve forces, and the need to pay the remaining employees for overtime work," the CEOs wrote.

They estimated the extent of the financial damage and the effects of the security situation at hundreds of millions of dollars. "This has been the most difficult period for the travel and aviation industry in many years now. The Israeli government must address this serious crisis immediately and provide a proper response to the Israeli aviation," they said.

The CEOs demanded that the ministers reduce Ben-Gurion Airport fees at least until the end of the year, and exempt the Israeli airlines from these fees during the operation. They also asked for state-guaranteed loans in order to pay suppliers and an immediate payment of the additional costs inflicted on the airlines in light of the extension of flight paths.

The executives also demanded that Ben-Gurion Airport's Terminal 1 would be opened to Israeli airlines' flights around the clock, that the government would allot advertising and marketing budgets to encourage tourism to Israel and compensate the Israeli airlines for the solutions they provided to the foreign airlines' passengers during the two-day ban on flights to Israel.

"We expect the Israeli government to support the Israeli companies throughout this tough period, as we economize and reduce our manpower, in order to help the industry recover," the airlines' CEO concluded.