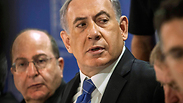 Prime Minister Benjamin Netanyahu
Photo: Reuters
Prime Minister Benjamin Netanyahu addressed the world for the first time since the Gaza operation reached its end. Netanyahu praised the IDF for its efforts in making Israel safer and urged international reporters now leaving Gaza to "show the truth" about Hamas.
PM Netanyahu's address (Video: Eli Mendelbaum, Reuters / Editor: Hemi Gera) (צילום: אלי מנדלבאום ורויטרס)
"The people of Gaza are not our enemy. Our enemy is Hamas; our enemy are the other terrorist organizations trying to kill our people. The tragedy of Gaza is that it is ruled by Hamas – a tyrannical and fanatical terror group that relishes civilian casualties.
"They want civilian casualties. They use them as PR fodder," the prime minister said, after urging international media to speak out about what they saw in Gaza now that they were not under what he described as Hamas' censorship.
Netanyahu showed reporters a video Hamas firing a rocket from civilian areas inGaza, and slammed the group for the massive death toll in Gaza.
"Israel accepted and Hamas rejected the Egyptian ceasefire proposal of July 15th. At that time, the conflict had claimed some 185 lives. Only on Monday night did Hamas finally agree to that very same proposal, which went into effect yesterday morning.
"That means that 90%, a full 90% of the fatalities in this conflict could have been avoided had Hamas not rejected then the ceasefire that it accepts now. Hamas must be held accountable for the tragic loss of life," Netanyahu said.
"Every civilian casualty is a tragedy. A tragedy of Hamas's own working. I think the Nobel laureate Elie Wiesel put it best when he said, Hamas is engaging in child sacrifice. And this is something for which it must be held accountable. For the sake of all our children, it must not be allowed to get away with this."
Netanyahu takes questions from press (Video: Eli Mendelbaum, Reuters / Editor: Hemi Gera) (צילום: אלי מנדלבאום ורויטרס)
Amid claims in American media outlets of a "historic low" in US-Israel relations, Netanyahu said "I spoke with (US Secretary of State John) Kerry, and we had a good talk... And I'm very glad that Secretary Kerry and others have put forward the need to demilitarize Gaza," the prime minister said.
When asked if Israel's actions were proportional, Netanyahu said "I think it was justified, I think it was proportional and that doesn't in any way take away from the deep regret for, we have for the loss of a single civilian.
"We've gone to extraordinary lengths to avoid civilian casualties. Hamas has gone to extraordinary lengths to ensure that they have civilian casualties, as you've just seen."
Though the recent round of fighting seemed to be over, talks are still underway in Egypt to finalize a deal.
Regarding the ceasefire bid, Netanyahu said that "Israel closely monitoring Gaza ceasefire, and additional forces will remain in Gaza area to better protect the citizens.
"The situation there is better and safer than it was before operation," Netanyahu said.
Netanyahu commented on the Gaza operation's stated mission of detroying Hamas' tunnels, and said "In recent years, Hamas has built a system of tunnels penetrating into Israel to pull off terror attacks... and the IDF has destroyed it. We left Gaza only after we destroyed the tunnels we knew about and a few we didn't.
Netanyahu hinted that Israel was working to find a long-term solution for the Gaza threat, saying "We are working to give technological solution to threats posed by tunnels to our communities."
UN irked by Gaza
Secretary-General Ban Ki-moon said Wednesday that "the massive deaths and destruction in Gaza have shocked and shamed the world" and demanded an end to "the senseless cycle of suffering" in the Israeli-Palestinian conflict.

Ban said the UN understands Israel's right to defend itself from Hamas rockets but "the horror that was unleashed on the people of Gaza" raises serious questions about respect for international law that requires a distinction between civilians and combatants and proportionality.

UN human rights chief Navi Pillay told the assembly that "any attacks in violation of these principles .... may amount to war crimes."

Prime Minister Benjamin Netanyahu spoke Monday after meeting with senior security officials and said "I think that the international community needs to strongly condemn Hamas and also demand, just as we are demanding, that the reconstruction of Gaza be linked to its demilitarization," he said.

"I express deep appreciation to all of our soldiers for their fighting spirit under difficult conditions, in urban areas with tunnels," he added. "There are many stories of heroism here. I am impressed by the effort and by the operations in the field."

A Gaza truce was holding on Wednesday as Egyptian mediators pursued talks with Israeli and Palestinian representatives on an enduring end to a war that has devastated the Hamas Islamist- dominated enclave.

Egypt's intelligence chief met a Palestinian delegation in Cairo, the state news agency MENA said, a day after he conferred with Israeli representatives. The Palestinian team, led by an official from Western-backed President Mahmoud Abbas's Fatah party, includes envoys from Hamas and the Islamic Jihad group.

"The indirect talks between the Palestinians and Israelis are moving forward," one Egyptian official said, making clear that the opposing sides were not meeting face to face. "It is still too early to talk about outcomes but we are optimistic."

Egyptian and Palestinian sources said they expected later on Wednesday an initial response by Israel to Palestinian demands, which it has so far shown no sign of accepting.

Attila Somfalvi and Reuters contributed to this report