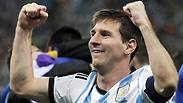 Barcelona FC's star player, Lionel Messi, has weighed in on the fighting in Gaza, and urged the parties involved to end what he described as a "senseless cycle of violence."

In a post on his Facebook page, the UNICEF Goodwill Ambassador wrote "I am terribly saddened by the images coming from the conflict between Israel and Palestine."

"Children did not create this conflict, but they are paying the ultimate price," Mess wrote, urging an end to the "cycle of senseless violence"

He urged supporters to support UNICEF, and said "We must reflect on the consequences of military conflicts and children must be protected."